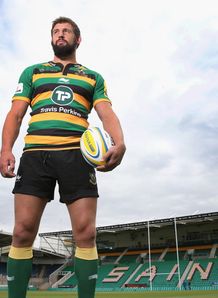 Related links
Teams
Also see
Northampton Saints flanker Tom Wood believes the Premiership champions will carry 'a bit of strut and aura' into the new season.
A first title ever Premiership title for Jim Mallinder's men, a year on from losing to Leicester Tigers at Twickenham, capped Northampton's best season after they also lifted the Challenge Cup.
Now acknowledging they every other side in England will be chasing Northampton down, with recruitment indicating the Premiership is tougher than ever, Wood is ready for the challenge.
"There is now a big target on our heads," Wood told the Telegraph.
"There has been a lot of recruitment elsewhere, there is a lot of optimism in other clubs and that means it will be a tougher challenge for us.
"We have got no God-given right to be able to do it again. We have got to earn it all over again. We did last year through sheer hard work and if we go out now with a bit of strut and aura, then that will be a good thing."
Director of rugby Jim Mallinder addressed concern over how Northampton's small squad would cope with international call-ups, with the champions relying on their young players to come through once again.
"There is a concern because we do have one of the smaller squads in the Premiership but we are confident that the youngsters who served us so well last season during those [international] absences will do so again," said Mallinder.
"Other teams will definitely be after us. Of course, there is a question as to whether we can repeat it. We have definitely got the squad to do it and we have got the frame of mind to do so again, also. We will be stretched by international call-ups but we know that we can deal with that.
"There are no easy games in the Premiership and if you are not quite there on top of your game, teams can come and get you. It is important we go out there and play with the belief of champions."