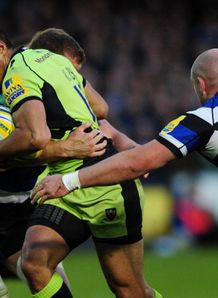 Related links
Teams
Northampton wing Ken Pisi said despite last season's success, the competition for places is keeping established players on their toes at the club.
The Saints won both the Aviva Premiership and the Amlin Challenge Cup last season and director of rugby Jim Mallinder has managed to keep that successful squad together.
However, the emergence of youngsters like full-back Tom Collins and wing Howard Packman means there is plenty of competition for places at the Saints.
"It's going to be a big challenge for us all this season," he told the Northampton Chronicle and Echo.
"Our position is never secure with the young guys coming up so it's a good test for us."
But Pisi welcomes the challenge and said he has never been part of the kind of settled squad which Northampton now have.
"It's pretty much the same bunch of guys from last season and we're all used to each other," he added.
"It's just about getting better now and moving forward.
"It's the first time I've been part of something like this, having the same bunch of guys together.
"It's a good vibe after last season and it's continuing to move upwards."