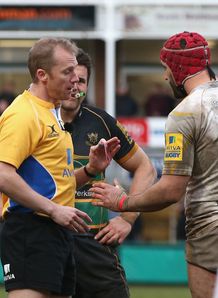 Related links
Teams
Also see
Northampton director of rugby Jim Mallinder had little to complain after his side's win in Worcester on Saturday to stay top of the Premiership standings.
Saints missed out on a bonus point against the winless Warriors and were made hard work of the first half before pulling clear after the break as Worcester captain Jonathan Thomas was sent off.
In fact, the hosts were down to 13 men at one stage with Sam Betty in the sin-bin. Loose forward Leonardo Senatore was also yellow carded in the first half.
Thomas saw red in the 52nd minute for punching Northampton number eight Sam Dickinson, and Mallinder said it was a logical decision.
"You can't go punching to the head, can you?," said Mallinder.
"It's something you can't do. He's a good referee is Wayne Barnes. He's one of the best we've got."
"We're top of the league, which is a pretty good place to be to be honest," added the Sainst boss.
"It's (difficult) in international weeks when we've got a number of our best players missing and a number of them still injured as well.
"It's slightly frustrating that we couldn't get the bonus point in the last few minutes, but very pleasing we're still in winning ways.
"They picked a big, heavy pack and stopped us mauling, legally or not, but they stopped us.
"We knew that like when we went down to Worcester earlier this season, that if we kept moving the ball and kept playing decent rugby the gaps would appear, and so it proved."
Worcester are now 11 points behind Newcastle at the foot of the table
"We didn't get anything out of it, but we did as a group in terms of showing we were prepared to fight. We move on to next week," said Warriors director of rugby Dean Ryan.
"We've got a challenge here this season with this group. I know what next season looks like, but I'm interested in the people here at the moment and they did a good job today.
"We didn't get anything out of it this week, but we've got a home game next week and if we keep turning in emotional performances like this one and the one last week we're going to cause someone a problem soon.
"If we get one win then everyone else is going to start looking behind them and we'll go from there."