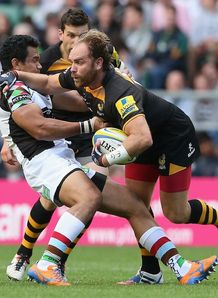 Related links
Teams
Andy Goode has thrown down the gauntlet to his London Wasps team-mates, urging them to notch their fourth consecutive win on Saturday.
Wasps travel to Kingsholm to face Gloucester on Premiership duty after a morale-boosting victory over Leicester Tigers on Sunday.
Goode knows that the English top-flight division remains congested, and that Wasps are potentially just one win away from a top-four spot.
"It's tight across the board. Northampton and Saracens are clear, but all the other teams can beat each other so the more wins we pick up consistenly the more we'll be pushing the top places," he told the Bucks Free Press.
"We're now three points ahead of Gloucester in the league so if we can get a win down there that will give us a big jump and push us up towards the top six."
While unbeaten at Adams Park, however, Wasps have struggled on their travels, and are yet to record a single away victory.
"We've won both our home games here this year. We want to make Adams Park a tough place to come as it has been historically. "But we'll go to Gloucester next week full of confidence. It's a tough place to go but if we get our systems in place and perform a bit better than we did against Leicester we can go and win," Goode said.
"I always look forward to playing in front of the shed. I get a hell of a booing there so hopefully I'll get another good booing and we'll come away with the win."
Goode, in particular, impressed against the Tigers, landing four from five kicks from the tee and two crucial drop goals.
"It's always nice to win against Leicester - Wasps and Leicester have got a massive history - but I was just a part in a cog and I think everyone performed well, showed a lot of heart and effort," he said.
"Conditions weren't ideal. Games like that are won by the front eight and they put in a great stint.
"It's just one of those things, when there's not a lot on in those situations in dodgy weather conditions, maybe the drop goal is a decent option and luckily both of them went over.
"They were quite lucky actually. They weren't the cleanest strikes, but I'll take them. In the warm up I took about six and missed with five."