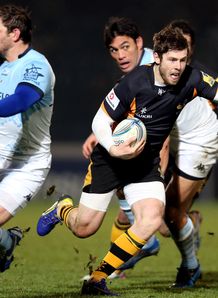 Related links
Teams
London Wasps youngster Elliot Daly is determined to make up for lost time having made his first appearance of the season last weekend.
Daly, who at 20-years-old has already made an astonishing 58 appearances and contributed 119 points for Wasps, missed the opening games through injury, but played a full part in helping his side record their first win of the season on Saturday.
With Saracens approaching this weekend, he is relishing more action.
"I played the full 80 minutes and felt pretty good afterwards so I was really pleased with that," Daly said.
"I had done a good bit of fitness in preseason despite the foot injury, so I feel in decent shape. It was great to be back and even better that we picked up the win in front of our home fans."
Daly played at full-back at the weekend, and having featured mainly as a centre for his club, while also appearing on the wing occasionally, he says he's happy to play anywhere.
"I just want to play and for me it doesn't matter really what number is on my back," he said.
"I have mainly played 13 in my rugby career and that's probably where I am most comfortable as I am more familiar with it but I enjoy full-back.
"It's a good position to play because you add a bit of versatility to your attacking game but also you have that perspective from back there where you can see what's playing out in front of you and hopefully pick out space and so on."
Daly has long been ear-marked as one of the brightest prospects in the English game, having made meteoric progress since making his debut for Wasps as a schoolboy.
Already an England Saxon and a Barbarian, Daly says he's aware there are chances for midfield players in the coming months for England.
"When there are injuries in your position obviously it's in your mind that if you're in the wider squad, like I am, that there is an opportunity to push through and get near the squad," he explained.
"The England management are really good at letting players know if you are there or thereabouts and what you have to do to get there and really all I can do is play as much as I can now for Wasps and help the team go in the right direction.
"I need to get a good few games under my belt, get some consistency and see what happens. There are a lot of midfield players in the Aviva Premiership who are sticking their hands up now."
Daly was thrilled to be part of the first win of the season last weekend and says his team-mates have been in a positive mood leading up to the visit to Saracens.
"Last weekend in the first half we tried to force it a bit and our attack was too flat and so it was hard for us to convert the chances we had as a result," he added.
"In the second half we worked much harder at the breakdown and it meant Charlie (Davies) had some really good ball to work with and we ended up scoring three good tries in the second half."
"We're looking forward to going to Allianz Park for the first time this weekend. We are obviously underdogs given how they have started, but we are very much up for it.
"It will be interesting to play on the surface there - it will be a quick game, which is usually something we quite enjoy. They are a very physical team but our pack have been going well so you'd like to think we can have enough possession to try and cause them problems."
Last weekend Daly was one of a trio of young English players in the Wasps back three, where he was flanked by young talents Josh Bassett and Christian Wade.
"We have a lot of young talent and everyone knows what Christian can do so it's great to play near him," he revealed.
"I think Josh is thriving playing in the Premiership environment.
"He is learning a lot and the coaches here are working hard with him and I think he's taken it all in really well and finding his feet very quickly. If I am picked at fullback again I will enjoy playing alongside those guys."
Despite his tender age, Daly is already recognised as one of the most experienced Wasps backs, a responsibility he enjoys.
"I was obviously very young when I started," he said.
"I was playing at the weekend and going to school on the Monday. It took me a bit of time to find my feet when I came in fulltime but I think I have matured a lot over the past year or so.
"I had a lot of nerves around the squad in my first season or two but now I feel 100% part of it and am learning all the time. I like racking up the games and playing week in week out, it's the best way to learn."