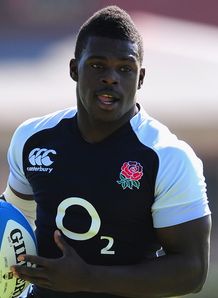 Related links
Teams
Christian Wade is a rugby union player who is known for his speed, agility and amazing skills on the wing and he has set his sights firmly on making the England team this season.
The 22-year-old currently plays for London Wasps where he has appeared 50 times and scored 32 tries. He made his very first game for England back in June against Argentina and was called up for the British & Irish Lions tour during the summer - a call up which surprised him by all accounts.
He is now firmly established in Stuart Lancaster's (the England team's Head Coach) Elite Performance Squad thanks to his finishing last season as the joint highest try scorer in the Premiership.
Now he has spoken of his wish to cement his place within the team by focusing on his form. He will up against Chris Ashton, who plays for Saracens, when it comes to being selected for the England team. He has recently spoken about the pressures he faces and mentioned that he chooses to focus on the things he can control and doesn't worry or think too much about that which is out of his control. A healthy attitude!
He also said that he was very shocked to have been called up to play in the Lions in Australia in the summer. And away from the international scene, his team has already begun its campaign for the 2013 Aviva Premiership. They finished only eighth last season but have been very busy over the summer buying new players, including Andy Goode from Worcester and Matt Mullan from the same team.
Wade is known mostly for his speed and agility and, judging by past form, has every chance of being called up for England this season. He represented the country back in the U16, U18 and U20. At the end of last year's season, Wade was named the Players' Player of the Year and the Young Player of the Year.
For those looking to place a bet on who will get the call up, he could definitely be worth your while. Make sure you check out his odds online and, while you're at it, have a go on their casino games at http://freebets.org/casino.htm and you could be in with more than one chance of winning some cash.
As for Wade, we wish him all the luck this season and look forward to seeing what he can do if and when he gets selected to play for England.