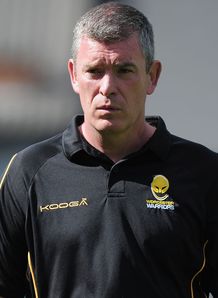 Related links
Teams
Also see
Worcester director of rugby Dean Ryan has conceded that the challenge to put the Warriors on track for success is "huge".
The only side in the Aviva Premiership so far this season without a victory, Worcester's latest loss came at Wasps on Saturday.
Having lost consecutive home matches to London Irish and Harlequins, Worcester's visit to winless Wasps was seen as a huge chance for Ryan's team to notch up a first victory, but it went begging.
Ryan highlighted his side's problems at the scrum, expecting more from Scotland international Euan Murray.
"It is a huge challenge to get this club sorted out. I'm very disappointed that we weren't competitive in the second half," said Ryan.
"Perhaps we need to more simplistic as we seem to be chasing games, too early and from too deep in our own half."
"Our scrum didn't work and our line-out was sloppy. We were competitive in the first half but we were stripped of the ball on at least seven occasions and the scoreline kept flashing away from us.
"Matt Mullan got the better of Euan Murray in the scrum. Mullan was speedy across the gap but as an experienced international, Euan should have been able to deal with it.
Wasps on the other hand were delighted at picking up their first win in the Aviva Premiership since February - with Dai Young insisting their troubles were behind them in the 32-16 win.
"We have to put last year out of the window. We can't carry negativity forward as it is all about this year," said Young.
"Today we were in control for nearly all the game but I was frustrated that we didn't put distance between the teams earlier.
"Our scrum was a big factor, it provided a very strong foundation. We felt we had to work on our scrummaging and made it a big thing so as to change the perception of that part of our game."