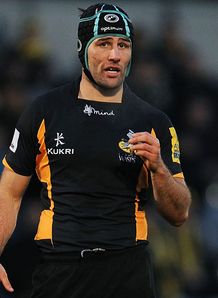 Related links
Teams
London Wasps have announced that 30-year-old inside centre Chris Bell will be the Aviva Premiership outfit's captain for the upcoming season.
Bell is rewarded with the captaincy following the significant impact he has made on and off the field at the club since he joined two years ago.
The centre has made 36 appearances and has been a pivotal figure in the club's ongoing progress and says he is honoured to lead.
"I'm delighted and honoured to have been asked. I have captained Wasps a few times now and it's always been a very enjoyable experience and something I was always very proud to do. We've got some great leaders here anyway so it's not a terribly difficult task to motivate the players but it's about getting out there and leading by example in every way that I can," he said.
"It is up to you as captain to make the right decisions and keep a calm head and that's something I am looking forward to, while also acknowledging there are plenty of players here who I can lean on as well. We're very much looking forward to the season as a squad. The new players who have come in and those younger guys have a great zest for life and a great enthusiasm and that keeps everyone on their toes. Pre-season is going well and we're all just itching for the London Double Header now and getting the season underway."
Director of Rugby Dai Young added: "It is important to first of all to recognise what a great job Hugo Southwell did last year. Throughout that time, he was well supported by Chris, who is a senior leader in this squad, and I know he will pick up the baton now and be excellent in the role. When you are picking a captain you are always looking for someone who has the respect of the coaching staff and the respect of the other players, which Chris has in abundance."
"Not only that, but he sets very good standards both on and off the field and he does that really well. He's somebody that's got that experience and knowledge and can offer opinions, which is really important from the coaching perspective. I don't want a 'yes-man' as a captain, I want somebody that can offer genuine opinions on behalf of the squad and I know he is the right man for that."