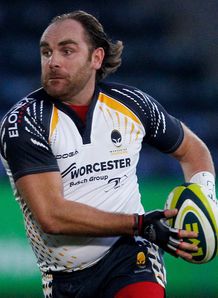 Related links
Teams
Andy Goode is hopeful that the experience he brings to Wasps will help the London club return to their former glories.
The 33-year-old arrives at Adams Park having been released by Worcester at the end of the previous campaign. Richard Hill's decision to let the fly-half go came as a surprise to many and Goode was not short of options before deciding to join Wasps.
Goode reveals that it was the potential of the Wasps squad - especially the attacking flare of Christian Wade and Tom Varndel - that swayed him towards the club.
"Quite a few clubs were interested, but they were the ones I found most interesting," he told the Rugby Paper.
"With a lot of the others, they wanted me to play alongside other established players, but I wanted to play week in, week out until I am not good enough to play anymore.
"Wasps have a lot of young talent and Dai wanted someone with experience to put the team in the right areas.
"Wasps are probably the most devastating team in terms of counter-attacking. They have got that X-factor and my job is to help them be as much of a threat as possible as an attacking unit in first-phase possession.
"It says something about their finishers that they had the two top tryscorers in a side that finished eighth.
"At Leicester I had Tom Varndell and Alesana Tuilagi, but in terms of finishers then I can't think of a better combination that I have played with.
"I will need to get the ball wide as quickly as possible. That is a side of the game I enjoy but I have not always had the chance to do it.
"You can't just chuck it about and say to the wingers 'score tries'. You have to pick the right time to go out."
Goode is determined to get Wasps back into the Heineken Cup after the team failed to secure qualification for the upcoming campaign after fading badly in the second half of the season to finish eighth in the Aviva Premiership standings. The England international boasts plenty of experience in Europe's premier domestic competition and is hopeful this will aid some less experienced members of the Wasps line-up.
"When I spoke to Dai Young, he told me about Stephen Jones retiring to become backs coach. He spoke about the amount of young talent Wasps have with guys like Joe Launchbury and Christian Wade. Across the board they have some brilliant players, who may just need a little direction," he explained.
"In the last 12 months Wasps have made massive strides. They are a big London club and the new owner wants to move to a new training ground and, potentially, a new ground.
"When I was at Leicester, they were our main rivals and they have the players to be in the top six.
"I have signed a two-year contract and I want to help the club get into the Heineken Cup. I have played 49 matches in the Heineken Cup and I want to get to 50."