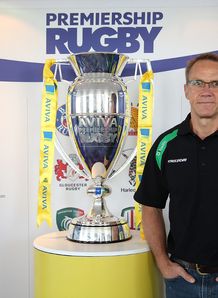 Related links
Teams
London Irish boss Brian Smith is pleased with the conditioning work being carried out by new strength and conditioning coach Steve Walsh.
Walsh has arrived from Toulon after five years with the European champions and is currently putting the Exiles squad through their paces at their brand new training facility.
Irish have also invested heavily in their academy, bringing back former England internationals Nick Kennedy and Paul Hodgson alongside club legend Declan Danaher.
"The big picture the club's looked at is getting the academy right and we've made a big investment there with Nick Kennedy, Paul Hodgson and Dec Danaher," said Smith at the fixture launch for the new Premiership season.
"And behind the scenes Steve Walsh has been a significant back-room signing - he's a great tone-setter, a lot of experience and success, double Heineken Cup winner, French Championship winner.
"It's his programme and the boys are getting smashed in the gym and we're sorting that stuff out.
"He's been in Toulon for five years, they've won things, but he's bought into the vision of the new London Irish and he wants to be part of building something here."
Smith was also pleased with Irish's recruitment upfront - an area where they lacked depth last season but now should be strong enough to unleash their backs out wide.
"We've recruited pretty well in the forward pack and taken in a lot of strength in depth up front. It's a bit like a new school year - you've got the new school uniform on, the new black shoes, and we're all excited about what's going on ahead," added Smith.
"Halani [Aulika] is like a new signing for us and Tom Court's a big, big loosehead who is a great strength for us.
"Geoff Cross played really well against South Africa for Scotland last month, so in the front-row we've added a lot of quality. Dan Leo is a monster, a very physical player and Sean Cox is a guy with massive work-rate so those are the guys to come in the second-row.
"In the back-row, Luke Narraway, Tom Guest and Conor Gilsenan - our back-row is pretty handy as it is and those three boys are going to come in and really add to it.
"So we've put a big emphasis on getting the tight five sorted but also adding more strength and depth to the back-row.
"So we're in pretty good shape but, like all teams, we want to get a fast start but we also recognise it's a 22-round competition played over nine months, so you've got to have endurance as well."