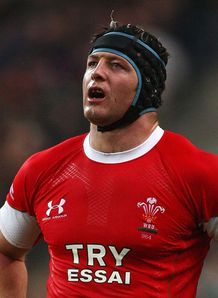 Related links
Teams
Veteran Welsh lock Ian Gough has this week spoken out on his signing for Premiership club London Irish.
The 36-year-old, who won sixty-four caps for his country in an international career spanning eleven years, admits that he still feels nervous at joining his new club.
"It only feels like yesterday that I was making my first appearance alongside Muddy Waters," Gough told the Western Telegraph.
"And I may be nearly 18 years down the track but I am still trying to prove myself, I still have that mixture of excitement and nerves.
"I'm out of my comfort zone and I am thoroughly enjoying it."
Gough secured an early release from his Ospreys contract, and was close to returning to the Dragons - the side where he spent four years of his career.
"I was quite close to going back to the Dragons but it didn't come about," added Gough.
"I had a good chat with them about it but negotiations came to an end for one reason or another.
"But I knew after leaving the Ospreys that I wanted to continue and I am pleased to be with London Irish.
"I will assess things at the end of the season. If I feel good enough, I've still got the appetite and my form is good then who knows? But that's a long way off and I am just concentrating on this new challenge.
"I'm enjoying it so far and there are a lot of new things to learn after six years with the Ospreys, it's been intense both physically and mentally.
"It's an exciting challenge and I know that it's going to be tough - I look at the fixture list and it's Bath this weekend followed by Harlequins.
"One thing you are guaranteed in England is that you are going to be up against some big, physical packs."