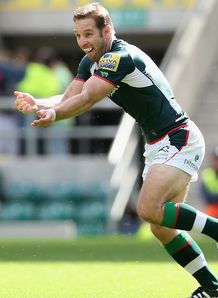 Related links
Teams
Former World featherweight boxing champion Barry McGuigan has been enlisted by London Irish to help this season.
McGuigan, who now runs a gym in Battersea Park in London, watched on as some members of the Exiles squad worked out with his son, boxing trainer Shane.
Irish have predicted a tough season and began the new campaign with a 42-20 loss to Saracens at Twickenham last weekend,
Director of rugby Brian Smith took the squad to watch McGuigan train Commonwealth super-bantamweight champion Carl Frampton ahead of his title fight next month, with McGuigan believing that Irish can go on to prove their doubters wrong this season.
"I know last year wasn't a great year for them but they are a great squad of players and if they can get their head right, they can do big things," McGuigan told the Daily Telegraph.
"If this is going to give them a little bit of a lift at all, that is the objective. Brian [Smith] wants to make the club more Irish and they are all incredible-looking athletes and I really hope they can gel and play as a team and I want to encourage them as much as I can and really help them.
"If they want to come back here and have a bit of fun and do a bit of padwork and help them with their cardiovascular fitness, Shane will get them into shape."
Underlining the squad's positive reaction to visiting McGuigan's gym, Smith re-iterated his desire to grow the Irish spirit in the club, typified by the recruitment in the last two seasons of Tomás O'Leary and Ian Humphreys.
"The boys love their fights and the hard work has been during the pre-season and this is a bit of a treat for the boys to see Carl and shake hands with him because we believe he is going to win a world title," said Smith.
"We also feel the McGuigans are part of our family. Our boys have nothing but admiration for Carl.
"It is a different game to ours but Barry was talking about the mental aspect as well and we know we have got big challenges ahead of us but like Carl we will roll our sleeves up and get stuck in and give it our best shot.
"We play with the shamrock on our shirt and there are a lot of teams around the world who do that. There is something about the fighting Irish that we can identify with. As a club we want to be honest, hard-working and true to what we would say is the fighting Irish spirit."