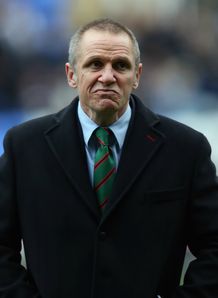 Related links
Teams
London Irish director of rugby, Brian Smith, is confident that his charges can prove the critics wrong this season.
Smith is also not worried that the press are backing his side for relegation.
"I don't read The Times as you have to pay for it online, and I don't read the Telegraph as I don't have time to," laughed Smith when speaking to getReading.
"People can speculate, but we don't talk about it as a group. We don't feel we need to. It is out of our control so it doesn't worry us."
Smith's team start their campaign with the daunting task of taking on Saracens, with Irish will be looking to avenge the 40-3 defeat that they suffered on the opening day of last season to the same opposition.
Saracens will go into the encounter as heavy favourites, boasting numerous international players, but Smith maintains that his team are being writing off far too easily.
"It would be nice to prove them wrong, but what is driving us isn't proving the critics wrong," added Smith.
"It is the desire to get better and be genuine contenders once again.
"We are in a hurry like all groups of young men, but we know it isn't going to happen overnight.
"We are willing to fight the fight, but we are going to need a bit of luck with injuries as we don't have the biggest squad.
"We want a good start and the first five games are very important. The key is to be in touching distance of the top teams by Christmas. If we can be around sixth by then, anything can happen at the back end.
"It is going to be a very different contest this season. It's been 12 months and a lot has happened in that time, a lot of players have come and gone.
"Our players have been looking forward to the second week of September for some time."