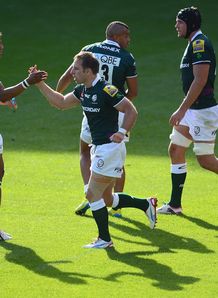 Related links
Teams
Also see
London Irish scrum-half Tomás O'Leary is happy with his fitness after a serious back injury ruled him out for the season last December.
The former Munster and Ireland scrum-half joined the Exiles to plenty of fanfare after a successful career the other side of the Irish Sea, including being an original selection for the British and Irish Lions tour of South Africa in 2009 before breaking his ankle.
Having been through an extensive rehabilitation process, O'Leary has undergone a full pre-season training schedule with Irish and is focused on winning back the number nine shirt, which was occupied in his absence by Pat Phibbs and Darren Allinson.
"I think my fitness is good. The start of pre-season was tough. It was the first major physical work I had done," said O'Leary.
"Obviously I'd done a lot of rehab and I was a bit behind but I'm catching the boys up now and I'm happy with where I'm at. I still have a few weeks but I'm really happy with where I am.
"I suppose after last season and the frustration of injury I just want to stay fit and healthy.
"Obviously I want to play well but coming off the back of an injury you want to feel good and feel strong and try and put together a string of games and hopefully play a full season.
"You look at last season and at the lads who played last season when I was injured and they certainly didn't weaken the team.
"Phippsy came in and did really well and Darren played really well last year too. There's loads of competition but that's why I've come over to London Irish, to play as many games as I can and playing in the Premiership.
"Hopefully I can be first choice nine but I know there's a lot of competition for that spot. There's just a personal pressure that I want to be playing and be fit and available all year."
O'Leary is also looking to rekindle his relationship with fellow Irish half-back Ian Humphries, who joined Irish from Ulster at the same time as O'Leary before last season.
"The few games me and Ian played last year together were really enjoyable. Obviously Ian loves to play an attacking style of rugby and I think generally London Irish aim to play a good attacking brand of rugby," added O'Leary.
"I certainly enjoyed playing with Ian last year so hopefully we can make it more consistent and form a good performing partnership."