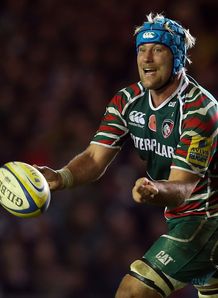 Related links
Teams
Leicester Tigers back-row Jordan Crane has admitted he could not imagine moving club ahead of signing a contract extension with the Welford Road side.
Crane has recently put pen to paper on a deal that will tie him to the Premiership outfit for a further two years beyond the end of the current season, taking his spell at the Tigers beyond the decade mark.
"I am really pleased to stay here," Crane told the Leicester Mercury.
"I have been here for eight years and couldn't really see myself playing for any other club at this moment.
"I didn't really fancy France as an option at this time and it was really good to sign.
"I didn't even look anywhere else. I was pleased to get it done and stay at Leicester.
"I have loved it here, although I didn't think I was going to last this long when I first signed.
"The first year was interesting, to say the least.
"I found it frustrating because I came from Leeds where I had played every week.
"You know you are not going to play every week when you join a club like Leicester but, as a player, you still want to play.
"That was difficult but the year afterwards, I played nearly every game. I never looked back and have not looked at leaving ever since.
"I have got a bit bigger and have had to enjoy mauling and scrummaging a bit more since joining Leicester.
"But the club has been massive for me as a person and the experiences that I have had here have been amazing.
"A Heineken Cup final, quarter-finals, winning titles, being in the final every year since I have been here, you could not get that anywhere else and that is what makes it so special to me."
27-year-old Crane's injury record is largely positive; he has suffered just one serious knock that saw him miss almost a year of rugby.
But now the back-row is among the more senior members of the Tigers squad, and delighted to be such a mainstay of Director of Rugby Richard Cockerill's side.
"I had the one big injury but kept fit apart from that," added Crane.
"It's good to be a part of the senior group and keep driving the club forward.
"It's about keeping the same culture that was here when I first joined and for years and years before that.
"Now I can now pass on my experiences of playing for Leicester for so long.
"For a lot of guys who sign here, it's not about the money, it's about playing for the best club on the biggest stage. That is why people sign for Tigers.
"Even when we are not playing well, we still have that knack of winning and coming through."