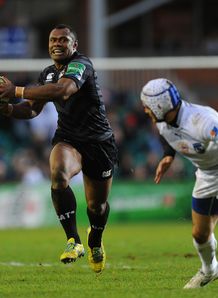 Related links
Teams
Leicester Tigers back Vereniki Goneva is torn over whether to leave the club this season for France or to stay at Welford Road.
The Fijian has been in sensational form for the English champions so far this season, with five tries already this season.
Goneva has admitted he would love to stay at Leicester "forever" but the lure of securing his future with a financial switch to France holds an understandable appeal for the 29-year-old.
"It is a big decision for me," Goneva told the Leicester Mercury.
"If I could play until I was 40, I would stay here forever because I love the club and the facilities. But rugby is a short career so I have to work out what is best for me.
"I have an agent and I know that some clubs in France are interested in me.
"I am still talking (to Leicester) and it will be a really difficult decision to make."
Used by Leicester both on the wing and in midfield, Goneva has played a starring role this season in the absence of other injured backs.
"When I have had the chance to play, I have really been enjoying myself and I always give all of my energy and effort to get into the team," added Goneva.
"It always helps when you get into some good form when you play a lot of rugby and I am grateful to have done that.
"A lot of that rugby has been at centre but I don't mind where I play.
"The good thing about playing in the centres is that you have a lot of ball and are always in the game.
"On the wing, if you don't have good centres, you can never touch the ball!"