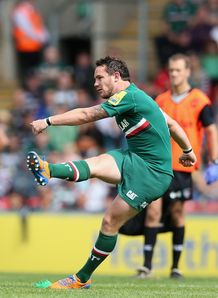 Related links
Teams
Suspensions have been handed out to Ryan Lamb and Koree Britton after both were sent off in a Premiership "A" League clash on Monday.
Lamb, who plays for Leicester Tigers, and Britton, of Gloucester Rugby, contravened Law 10.4 (e), striking an opponent, when the sides met on Monday.
The ruling was made at an RFU Disciplinary Hearing on Tuesday, with the Tigers fly-half free to play again on October 8, while the Gloucester hooker must wait until October 29.
Sir James Dingemans (Chair), Jeremy Summers and Dr Julian Morris heard the cases at a hotel in London.
The panel adjudicated that Lamb (who pleaded guilty to the charge)'s contravention was low-end, and thus a two-week ban prior to mitigation.
Britton opted to contest the charge against him, however the panel found him guilty, and judged that the entry point for sanction in this case was mid-range, and therefore a five-week ban before mitigation.