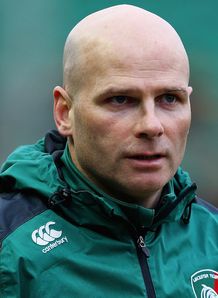 Related links
Teams
Leicester backs coach Paul Burke said the result rather than the performance pleased him most after the champions began the new season with a victory.
Faced with the challenge of tackling Worcester, the Tigers began strongly with Adam Thompstone and David Mele touching down in a solid first-half.
But despite getting the first try of the second period through Jordan Crane the Warriors were allowed to get back into the tie through Chris Jones and Josh Matavesi before Niki Goneva made sure of the win in Sunday's lone game.
And after allowing their opponents a foothold in the game in the second-half Burke believes there will be a lot to discuss during the week ahead of a tough Premiership trip to Bath on Saturday.
"The positive I think was that we got the bonus point right at the death, I think that was good, we played right to the end but there were a lot of disappointing things in the game for us," he said.
"We fell away a bit in that third quarter of the game and allowed Worcester to get back into it. Defensively we were a bit lapse in that period which we will have to look at.
"There were areas of the game which were good, there was a lot of stuff which wasn't too good and we will have to look at that as a team and a coaching group and improve because if you go down to Bath and play like that you will get beat.
"We are happy to get the win, not too happy with the performance but it is our first run out and there was always going to be issues in the game, we knew that, and it is a bonus point win which we will take forward."
If it weren't perhaps for some ill-discipline in the first-half the Warriors may have come closer than they did at Welford Road and Burke believes under new coach Dean Ryan they will cause a lot of teams problems this Premiership season.
"They certainly created opportunities," he added. "They are a big, abrasive team with some big ball carriers and if you slip off tackles they will cause you problems.
"With David Lemi on the wing and Chris Pell at full-back they have some strike runners there so they will cause teams problems especially at home but we were happy to get the win."