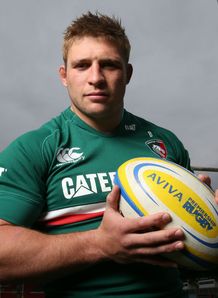 Related links
Teams
Also see
Leicester, England and Lions hooker Tom Youngs believes hookers are more "vulnerable" to injury working under the new scrum laws.
By having to lift one leg off the ground to hook the ball under the new laws, Youngs has stated the hookers will be more susceptible to risk and injuries.
Describing the new system as "...a lot of change for not much actual change in the play", Youngs has outlined the factors behind his concerns.
"You are probably better off not having the ball for your scrum," said Youngs to the Daily Telegraph.
"I can't see where the advantage now lies. The opposition hooker just has to shove. If it's my ball I've got to decide whether to strike for the ball and risk getting driven backwards.
"Look, I don't want to come across as a wimp or as someone whinging about what went on in the past. But when blokes used to hook for the ball 15 years ago, everyone around him in the scrum was a lot lighter than they are now, probably less powerful, too. Blokes now will routinely leg press 400kg in the gym. [Leicester tight head] Dan Cole does more than that. I've got one prop at 121kg one side, the other at 135kg.
"Even last year, there were times when I just could not lift my leg off the field even if I had wanted to or needed to. It is just not easy, it really isn't.
"I never used to worry about the old scrums. I used to quite enjoy the hit, getting stuck in there. I never felt exposed or vulnerable. Now, you've got to decide to strike or not, twist your body across to get your foot to it or even just your knee. You are more vulnerable.
"There are a whole generation of hookers who have had no experience of striking for the ball. I am not a bleater by nature and I'll get on with it. But it is not easy, it really isn't.
"The scrum is still a bit of a mess, with a lot of wheeling and even collapses. It is difficult not to hit through the mark and even when you have set you have got to wait for the ref to instruct the scrum-half to put the ball in. It's not fluent at all. It's a lot of change for not much actual change in the play."