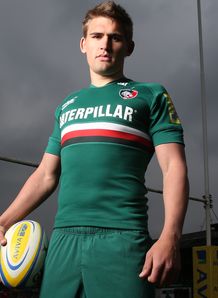 Related links
Teams
Leicester Tigers captain Toby Flood is in no hurry to tie up a new contract as he enters the final year of his current deal.
The 28-year-old has been handed the captain's armband following the retirement of stalwart full-back Geordan Murphy.
Despite his new status at the club, Flood plans to follow the same routine he has always taken with contracts; waiting until the middle of the season to see where he stands.
The former Newcastle Falcons fly-half is entering his sixth season with Leicester after signing a three-year deal in 2011, and is very happy at the club.
"I will just take it month by month this season. I have loved my time here. It has been fantastic and I play with a great bunch of guys," said Flood to the Leicester Mercury.
"Normally stuff happens around January and I very rarely negotiate any contract early so, at the moment, it is about getting on with it, seeing how the season goes, seeing how I feel and I will make an assessment then.
"I have always been really honest with the club with regards to what is going on.
"I have no intention of leaving but, at the same time, I want to see how the first part of the season goes and make an assessment then.
"I have done it that way for the three or four contracts I have signed, and I will make a call when the right time comes along."