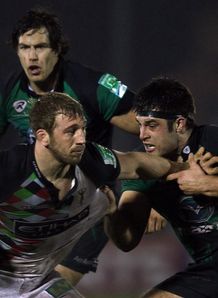 Related links
Teams
With the Heineken Cup looming large on the horizon, we take a closer look at each group. Next up, Pool Three.
BIARRITZ
Director of rugby: Patrice Lagisquet
Captain: Imanol Harinordoquy
Best finish: Finalists in 2006 and 2010
Key signing: Aled Brew
Player to watch: Dimitri Yachvili
Pool odds: 10/11
HARLEQUINS
Director of rugby: Conor O'Shea
Captain: Chris Robshaw
Best finish: Quarter-finals in 2009
Key signing: Dave Ward
Player to watch: Nick Evans
Pool odds: 10/11
CONNACHT
Director of coaching:Eric Elwood
Captain: Gavin Duffy
Best finish: Pool stages in 2012
Key signing: Dan Parks
Player to watch: Mike McCarthy
Pool odds: 25/1
ZEBRE
Director of rugby: Roberto Manghi
Captain: Gonzalo Garcia
Best finish: Maiden campaign
Key signing: Daniel Halangahu
Player to watch: Mauro Bergamasco
Pool odds: 500/1
How we see it: Two-time finalists Biarritz and English champions Harlequins have probably be given the easiest draw of all and both will strongly fancy their chances of qualifying for the last eight, even if they don't win the group. Connacht surprised many by derailing Quins' campaign last year with a shock win at the Sportground but the Irish side will struggle to compete away from home. Heineken Cup debutants Zebre are the weakest team in the competition and the big guns will expect to pick up a full house of points against them.
Key fixture(s) in Pool: Biarritz have a strong pedigree in European competition and always seem to find an extra gear on the big ocassion. If Quins can beat the Basques on the opening weekend they'll set themselves up nicely for the rest of the campaign and might even be able to rest a few players for the return leg in January.
Prediction: 1 Harlequins, 2 Biarritz, 3 Connacht, 4 Zebre
Fixtures:
13 Oct: Zebre v Connacht
13 Oct: Quins v Biarritz
20 Oct: Connacht v Quins
20 Oct: Biarritz v Zebre
7 Dec: Connacht v Biarritz
8 Dec: Zebre v Quins
14 Dec: Biarritz v Connacht
15 Dec: Quins v Zebre
11/12/13 Jan: Quins v Connacht
11/12/13 Jan: Zebre v Biarritz
18/19/20 Jan: Biarritz v Quins
18/19/20 Jan: Connacht v Zebre