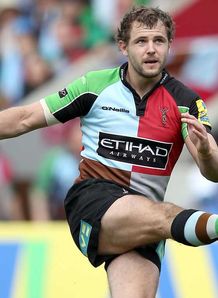 Related links
Teams
Also see
Harlequins fly-half Nick Evans has admitted that he is weighing up lucrative offers from France and Japan as he nears the end of his contract in London.
The former All Black's contract is due to expire at the end of the season after five years at the Twickenham Stoop and the Premiership champions are keen to retain the services of their most influential player.
The 32-year-old highlighted just how valuable he is last weekend when he spearheaded an astonishing comeback from 27-points down to help Quins to victory over Wasps as he made his 100th Premiership appearance, bagging 22 points in the process.
Evans has suggested that he would like to stay with the club but with a final big pay-day on offer abroad, negotiations are ongoing.
"Both sides are in talks at the moment and it's something we want to organise early because that suits both parties," he said.
"I'm no spring chicken, but I'd also love to stay. We'll have to wait and see what happens.
"I have a few options and staying at Quins is one of them.
"I've been away from New Zealand a while, but I do love London.
"I have a great time here and work really well with Quins. The company's awesome and we have a good time.
"I will not go back to New Zealand to play. I've had my time there. If I was to move, it would be to France or Japan."
Quins will want to correct the defensive frailties that enabled Wasps to establish a 40-13 lead at Twickenham last week then they resume their title defence against London Welsh on Friday.
"I've been in a few games where we've been down, but nothing like that before," Evans said.
"I looked at the scoreboard and it was 40-13 and thought we were beaten, let's just try to keep it under 50.
"As a team we're getting ourselves in situations we've never been in before and that's a good thing
"It bodes well for the future, although we don't want teams to build up that sort of lead again.
"We won the title so every side will be gunning for us now," he said.
"I remember last year when Saracens were champions that was the game we really wanted to lay a marker in.
"Teams will want to do that against us this year and that's a pressure we can use to our advantage.
"We don't expect to be given any quarter and we know we must be on top of our game in every game, no matter who we are playing
"But in the four years I've been here this is the best I've felt about this team.
"We haven't had to recruit too much and we've got another level of experience on last year.
"After winning the Amlin Challenge Cup and Premiership, we know our game inside out.
"But we must keep working. We didn't meet our targets in defence or attack last year, but it was our discipline that really let us down.
"We must improve on that so that we keep getting in positions where we can win trophies."