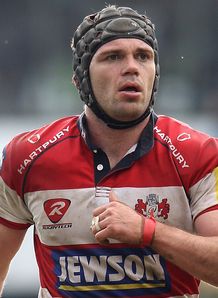 Related links
Teams
Also see
Gloucester legend Andy Hazell has hung up his boots after 17 seasons with the club due to problems with a concussion.
Hazell suffered the injury during a pre-season match against Plymouth.
The 35-year-old won five caps for England between 2004-2007, but looking back on his career admits he would have swapped them all for Premiership success with Gloucester.
Hazell was part of the Cherry and Whites group that finished 1st in the Premiership three times between 2003-2008, only to lose out in the playoffs.
"I would swap all my England caps for Premiership win with Gloucester," Hazell told the Telegraph.
"If someone said, we will take your cap away and replace it with a Premiership medal, I would take it.
"My goal was always to do my best for Gloucester and maybe it is because I dedicated so much time to the club. I never wanted to leave.
"I would love to have played my last game here at Kingsholm at the end of the season, to run out with the boys and bring my kids out.
"That was my dream but I am sure my kids would rather have a sane dad than run out on the pitch with him."
Discussing his concussion, Hazell revealed that he supported the new IRB guidelines on dealing with head injuries, adding that playing on was not worth the risk with his family to bear in mind.
"If I was 25, I would probably lie and say I was fine," added Hazell.
"That is the problem. My message to the young players today is that if they don't feel fine, speak up.
"This is a great game and we all love it but it not the big picture. Throughout my career I have never listened to my body. If I had a bad leg I would just strap it up, whatever.
"This is the first time I have listened and it is telling me to stop. I have a young family and where I am in my career, I was not worth the risk.
"There is no chance that players will play for 17 years now. The new lads come in at a younger age because they start doing weights earlier and are big and strong.
"If they do 10 years now I think they will be happy."
Hazell realised his playing future was in doubt when he struggled to pass the return-to-play protocols, including balance tests and number recalls.
"The symptoms I suffered were dizziness. It was like everything was in a fog and I also had slow reactions,"stated Hazell.
"I would do a jog behind the posts, then do a length of the pitch to get my heart-rate up.
"As soon as my heart-rate got to a certain level, it almost felt like I was in a dream, like I was watching a film and someone else was running. It was a horrible feeling, like a detachment from reality."
Hazell also played in two matches for Gloucester back in November, against Japan and Newcastle, but knew instantly afterwards that something was wrong.
"I didn't feel right during the games. There were symptoms afterwards," revealed Hazell.
"I would get up in the middle of the night and feel dizzy. My mood was changing at home as well and after the three games, I went to the doctor and said: 'This is not right.'
"The club were brilliant. I took a bit of time off, when to see a couple of specialists, had some more tests and tried to come back for more training.
"But I was hesitant in contact situations, which is just not my game and how I wanted to be perceived.
"After a full-on line-out session, I could feel myself pulling away and I went to see the doctor and decided that was it."