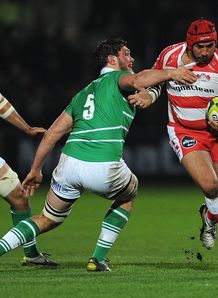 Related links
Teams
Former Australia hooker Huia Edmonds is relishing his battle for the number two jersey at Gloucester with Darren Dawidiuk.
Director of rugby Nigel Davies has rotated the two specialists throughout the season so far, with Edmonds praising his rival.
"Darren is solid for us week in week out. We have a good partnership whether he is starting or I am starting," said Edmonds.
"I have complete faith in everything he does and that goes the same for him. We just compliment each other.
"He is a very good player, a very good set piece player and he deserves the credit he is getting.
"Every position is up for grabs, I think it is a good thing we have three of four good hookers in the team, it keeps you performing week in week out and it's healthy for the team.
"It was a long time out for me, I learnt to hate that physio table. It's tough to watch sat on the sidelines, especially when the team are not having the best of starts to the year.
"I worried about it in the first couple of games, whether it was strong enough, can you step off it but it's fine now and I don't think about it.
"It's just about getting on the field and playing rugby. I have been happy with the way I have been playing recently, hopefully I can build on that."
Edmonds played a significant role in the build-up to one of Billy Twelvetress' two tries against Harlequins last weekend, but the match ended in another loss for Gloucester - their sixth of the season.
"I've had a few tweets about the dummy but there was not much made of it really, it was just good to get a try for the team," added Edmonds.
"The first 25 minutes we thought we were in for a real shot in the game but then there was a six minute period where we sort of lost control and then from there we couldn't really find a way back.
"It was frustrating but we have big hearts in this team and it showed we don't give up."