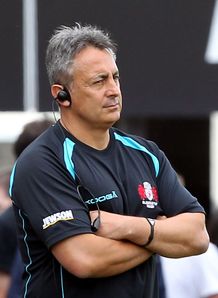 Related links
Teams
Also see
Gloucester director of rugby Nigel Davies has revealed his frustration at the four-week ban handed out to prop Koree Britton.
Britton was sent off along with opposite man Ryan Lamb for fighting in a tempestuous encounter between Gloucester and Leicester on Monday in an A League fixture.
The Gloucester prop pleaded not guilty to the charge of "striking an opponent" after Lamb stated that he had not been punched by Britton and there was no video footage to support the citation.
Believing there to be no harm done, Gloucester pleaded not guilty, only for the match official's original statement that Britton had been involved to be taken by the panel, resulting in a heavier suspension to infuriate Davies.
"[Britton] pleaded not guilty: Ryan Lamb said he wasn't punched by Koree, there's no video footage and the match official was on the other side of the pitch," Davies told the Gloucester Citizen.
"The official was telephoned apparently in the course of the hearing, and his word was taken as the correct one.
"We would have suggested he plead guilty if we thought that was the case, but he pleaded not guilty off the back of what Ryan Lamb has said as well.
"He's been punished heavily I think, bearing in mind there was a bit of a kerfuffle going on on the floor and Koree went over to help a team-mate.
"The other guy, who has instigated it has one week, and Koree, who has gone over to help his mate, who hasn't struck Ryan, has got four. And I can't fathom that, understand the sense in that, or the consistency.
"We'll probably put a letter in, just to identify our situation. I think we've got to be very careful around the disciplinary process, and I'm sure I'm not the only director of rugby frustrated by it, I just think there's a lack of consistency and it's very, very frustrating.
"It's not practical for us to appeal now. We can't afford the time, effort or money at this point, we've just got to get on with it now because we're on the treadmill of the season.
"There's so much work we've got to cover, we've got to get on with it. Koree's very frustrated, he put his hand up to play loosehead against Leicester and he actually went very well. He did a good job, so he was potentially an option.
"It's hard lines on Koree, things aren't going his way at the moment but things will turn for him. Every situation is different, in disciplinary hearings. And it's quite clear this was an incident when he felt obliged to go and help his team-mate, who was receiving a bit of a doing-over on the floor."