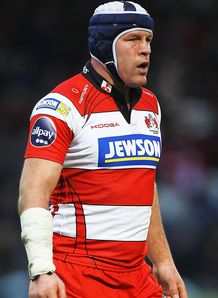 Related links
Teams
Peter Buxton has been named Gloucester's senior academy manager following his decision to call time on his career.
The 34-year-old, who spent 11 years with the Cherry and Whites, left Kingsholm at the end of the last campaign and was due to turn out for Bristol this term before before deciding he was unable to continue as a player.
Buxton has wasted little time in finding new employment, taking over the role previously held by Andrew Stanley.
"Having spent the last 2 years building up my coaching experience and qualifications I now have an unbelievable opportunity to help develop the next generation of rugby talent at Gloucester Rugby," Buxton told Gloucester's official website.
"As someone who was lucky enough to grow up in the local area and then go on to play 11 seasons at Gloucester, I am passionate about the club and the development of its young talent.
"Gloucester has always been a special place for me and I think the progress of the club under Nigel Davies has been fantastic and to continue to be part of set up, working alongside former teammates Alex Brown and Mike Tindall, is such an exciting prospect for me.
"I'd like to thank the guys at the RPA (Rugby Players' Association) for their support in preparing players for life after rugby. Having made use of the courses and qualifications they've organised for us throughout our careers, I feel ready for the next chapter of my life and am looking forward to this new challenge.
Buxton admitted he was disappointed with how things ended with Bristol but that he felt he had made the right move for both himself and the club.
"I would like to thank Bristol and in particular Andy Robinson for understanding my reasons for retiring from professional rugby. In the two months I was with the Club I was impressed by the ambition, work ethic and professionalism shown by the management, coaches and players and I have no doubt they are capable of fulfilling their goal of promotion to the Aviva Premiership," he said.
"I was keen to be part of that challenge, and felt when I joined that I had plenty of rugby ahead of me. However during pre-season I realised that my body is not quite where I hoped it would be. When I started to doubt myself and ask questions about my ability at the highest level, I knew it was time to call it a day.
"While not wanting to let down the Bristol supporters, I did not think I could perform at the level I have in the past and is expected by the club, I've have decided to focus on my long-term future and what will come next for me and my family."
Director of rugby Nigel Davies expressed his delight at Buxton's arrival.
"I'm thrilled that Bucko has joined our staff in helping to develop and maintain the fine work of our Academy," said Davies.
"We know the importance of working with people that understand the traditions and ethos of the club.
"After 11 years at Kingsholm, I'm not sure that anyone is better able to understand and communicate this than Bucko."
"The example that he set on and off the pitch is something that will rub off on the young talent that we have coming through at Gloucester."
"Last season, he worked closely with the junior Academy sides and developed his coaching skills. We hope that he will continue to develop as a coach, in order to develop our players and maintain the production line of talent."