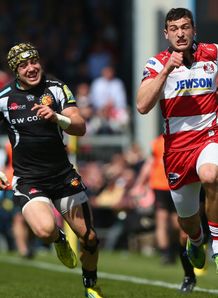 Related links
Teams
Also see
Gloucester full-back or winger Jonny May admits winning his first England cap is still sinking in but he is eager to kick on as a player in the new season.
The 23-year-old, who made his Test debut in Argentina in June, says that appearance has given him confidence going into 2013/14.
"To get my first cap was massive achievement and is something I am going to be proud of my whole life," he told The Citizen.
"It is something I've worked my whole life up until now to get. It was almost a surreal moment really, and it's probably still sinking in now.
"It feels like you want it so much, it's always in the back of your mind.
"And now that I have got it, it gives you that confidence and belief that you are good enough, and hopefully I can take that into next season. Hopefully that can help me push on and improve and be the sort of player that gets more caps.
"It's hard to describe really, but it means so much to me and everyone who has supported me."
England coach Stuart Lancaster has shown that he is not afraid to put youngsters in his XV and despite May wanting more action, he realises he still has plenty to learn as a player.
"I'm still quite young and I've shown I can play at that level," he added.
"I feel like I'm improving and developing, so hopefully I'll continue to play well, and will definitely be up for getting as many caps as I can.
"But I have a lot of other things to do before the autumn internationals. I am using this time now to prepare for the season, so I try to push that away and focus on the moment.
"It does come in to your head, but I am focusing on what I am doing right now."