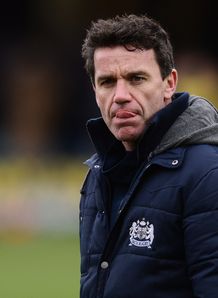 Related links
Teams
Bath head coach Mike Ford accepted that Saracens were the better side following his team's 10-23 loss at home on Friday.
Bath are enjoying a resurgence this season as they make a charge for the playoffs, but their spot in the final four isn't guaranteed with six games to go.
Leicester are currently five points behind third-placed Bath and face Newcastle on Sunday.
Having been unable to break down an impressive Saracens' defensive wall, Ford had no complaints when reflecting on the match afterwards.
"Look, let's give credit to Saracens. They're a very good side," said Ford.
"They're ahead of us in their development cycle, we've only been together since July with this new squad.
"Their experience told in certain places. They control the scoreboard and force you to do things you don't really want to do. And the second try just before half-time was a killer.
"We're going to hurt for three days but we'll come back again on Tuesday and start work again.
"We've got to get up to their level. I said to the team, we've come a long way this season but we've got to get better."