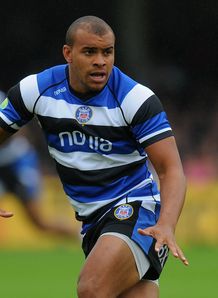 Related links
Teams
New Bath centre Jonathan Joseph believes making the move to the West Country club will help him in his bid to return to the England set-up.
The former London Irish stalwart, who was dropped to the Saxons by England boss Stuart Lancaster, firmly believes that playing for a struggling club was the root cause of his demotion.
"I was disappointed to be dropped to the Saxons but I understand the reasons," Joseph told The Rugby Paper.
"Considering how last season went for Irish I didn't really get the chance to prove myself with my club form.
"Hopefully the move to Bath will benefit my rugby because it was disappointing to not stay in the EPS but I was just not there last season.
"I want to get back in that squad, though, and if I start my season well I hope I can get back into the swing of things.
"I've spoken to Stuart Lancaster and we both were saying the same thing really. Now I'm at a strong club I've got an opportunity so I need to take it.
"It's been a good pre-season and I haven't found settling in all that difficult. The boys have been great and it's such a good set-up that it's been made pretty easy for me.
"It's important to have a good start to the season, of course, every team's wants that, but for us with new faces we want to gel quickly."
Joseph may have his sights on a return to international rugby, but he recognises that making the starting XV at the Rec will be a challenge.
"Consistency is the goal now for me, playing well week-in and week-out for your club and anything that comes after that is great but all I can is focus on that," said the former Exile.
"There's so much competition for places in the backline here, the whole squad is so deep and that is great.
"You want everyone knowing that they have to be at their best or they will not be in the team.
"Having Kyle (Eastmond) in the centres as well, from an attacking point of view he is just fantastic. His ability to create space for people around him is second to none so I'm excited about being outside him this season.
"But then you've got guys like George Ford as well, there is so much talent that I can't wait to get involved."
Individual goals aren't the only thing on the 22-year-old's mind and he has also has set one for his new club this season.
"It's about time Bath were back in the Heineken Cup so that has to be goal for us this season," explained Joseph.
"Gary Gold and Toby and the coaching team did a great job last season in their first year at the club and we want to prove to the rest of the clubs that we're ready.
"I just want to show the fans what I'm about, how I like to play the game and hopefully that will blend with how Bath want to play."