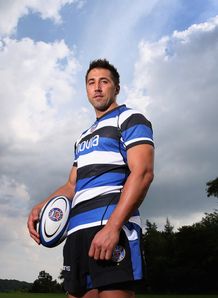 Related links
Teams
Bath boss Mike Ford has revealed that Gavin Henson has been told to stay away from alcohol as he looks to re-build his career at The Rec.
Henson's time with the club got off to a rocky start after he was knocked out by team-mate Carl Ferns in an altercation at a bar.
Both players were fined for the incident but while Henson's future at Bath was in the balance before it had even begun, Ford says that the club are committed to making the arrangement work - but there are conditions to this.
"My heart did sink when it happened," Ford told The Independent of the incident.
"I worked with Gavin on the Lions tour of New Zealand in 2005 and found him a really nice lad - shy, hard-working and very committed to his rugby. When we were reacquainted earlier in the summer, he struck me as being exactly the same. So yes, the incident was pretty disappointing. Basically he knows he can't be found with another drink in his hand.
"A massive point in all this was what the players felt about it, and they decided as a group that they wanted to help Gavin become a part of things here," he added.
Ford has an interesting balancing act ahead of this season as his son, George, battles for the number ten jersey.
"I have concerns about it, naturally," Ford Snr said of the situation, "but we've all talked it through - myself and George; myself, George and his mum; myself, George and Bruce Craig [the Bath owner]; myself and the rest of the coaching staff. We've put things in place that we think will protect the club from any charges of nepotism, and I believe we're all comfortable with the situation.
"I know some people will say things even if we win five or six on the bounce with George in the side, but I can't control that," he added. "In the end, it's important to point out that he's a bloody good player."