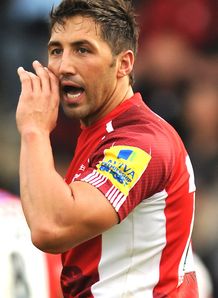 Related links
Teams
Bath back Gavin Henson has expressed his remorse over an incident in a local pub when he was punched by team-mate Carl Fearns.
Henson recently joined Bath from London Welsh and the incident happened less than a month into his tenure with his new side.
The latest chapter in a tempestuous career, Henson admitted that it had been a less than perfect start to his time at The Rec, adding his determination to make up for it on the field.
"It wasn't a great start to my Bath career and I'd like to put that behind me," said Henson to BBC Radio Bristol.
"Hopefully I can get out on the field and people will see me as just a rugby player.
"That wasn't a great moment but you have to have these team bonding sessions. Daft things seem to happen when I go out.
"It was a bit embarrassing and not a great thing for the club but I like to think the squad grew closer together after that.
"I had a big headache that day and I went down quite easily. Maybe we will have a charity boxing match at the end of the year so I can get a bit of respect back."