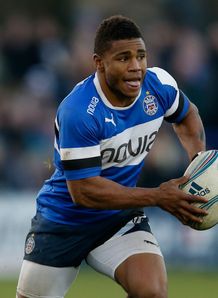 Related links
Teams
Bath director of rugby Gary Gold has described England centre Kyle Eastmond as "a freak of nature" ahead of the new season.
Eastmond capped a breakthrough season in the Aviva Premiership by taking part in England's tour of Argentina in June, winning his first two Test caps against the Pumas.
Producing a pair of excellent performances, including a solo try in the second Test, Gold has praised the former rugby league star's ability and stated that whilst Eastmond is frequently compared to Jason Robinson, he can be a legend in his own right.
"Kyle did unbelievably well for us and the amount of rugby he played last year was incredible," said Gold to the Bath Chronicle.
"We really believe in his ability - I think he is a freak of nature.
"I understand why people make the comparisons they do but I believe Kyle is good enough to be his own man and people won't be putting him up next to Jason Robinson in the future.
"It's brilliant that England have recognised he has got such a fantastic skill set. He's got lightning feet and a really good understanding of where space is on the field.
"I know Stuart worked hard with him while he was away and I think when they all get together, Kyle is the one who offers something different.
"That's really exciting with the way England may want to play. Brad [Barritt], Manu [Tuilagi] and Billy [Twelvetrees] are all outstanding players but you know what you are going to get from them.
"If you are up against the All Blacks and you want to try something different that they wouldn't expect of an England team, you'd have to go to Kyle."
Gold also expressed positive views regarding England head coach Stuart Lancaster, backing his policy to pick young talent in South America.
"It is really encouraging for those guys and I am so happy that they got their just rewards for their performances in Argentina," added Gold.
"It's great to see that Stuart is a man of his word. He said they'd be taking that tour seriously and to see our players given this chance after what they did out there is great to see.
"As a club we fell short of our targets last season but those players still did amazingly well and were able to get noticed by the selectors.
"I'm really thankful to Stuart that he is open minded enough to not just say Bath didn't have a good season, so their players must not be good enough."