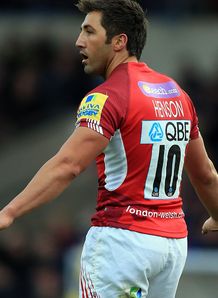 Related links
Teams
Also see
Bath have confirmed that Gavin Henson and Carl Fearns have both been fined following their altercation on a night out.
CCTV footage captured Henson being punched by Fearns in a bar - the latest in a long line of controversial incidents in Henson's career.
Both players have received written warnings and been fined, with no further action to be taken by the club.
"Bath can confirm that, after a thorough internal investigation, the players involved in last week's incident in the city centre have been dealt with via the Club's disciplinary process," said a club statement.
"The behaviour of some of the players was totally unacceptable and not what we expect from them," said Nick Blofeld, Bath Rugby's CEO.
"The two players involved have taken full responsibility for their actions and they have both received written warnings and fines, and we regard the case as now closed.
"We want to see the squad focused on pre-season training, the forthcoming 7's and friendlies, and then delivering on the pitch this season."
"We would like to apologise as a group," added club captain Stuart Hooper.
"Clearly what happened last week was inappropriate and there is a collective will amongst the players to put that right and not set such a poor example again."
Fearns, who was part of the England Saxons EPS squad last season, has been requested by the RFU to "attend a meeting with staff at Twickenham concerning his future conduct."