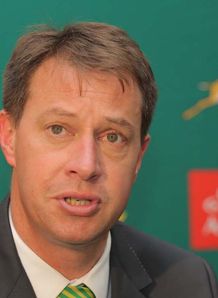 Related links
Teams
SARU have denied reports that it has instructed that at least half of the South African Schools Rugby team must be made up of players of colour.
"Saru has not issued any instruction to the selectors of the SA Schools team on the number of players to be selected from different race groups and no such meeting took place in Middelburg," said SARU CEO Jurie Roux.
Rapport had stated that the measures are set to be implemented for the first time. The newspaper report said Mervyn Green, SARU's general manager, had stated during Craven week in Middelburg last Thursday that selectors were told that half the team had to be made up of players of colour.
Roux explained there would be no need for such a system or policy as there were enough players of colour talent coming through already.
"However, we have previously made it very clear to all management at all our junior levels that there is more than enough black talent to achieve a higher representation of generic black players, even to the levels of 50 percent."
The newspaper said that SARU have instructed 14 players of the 28-member squad be drawn from black, coloured or Indian players.
South Africa are scheduled to play U18 teams from England in Stellenbosch, France in Cape Town and Wales in George, during August.