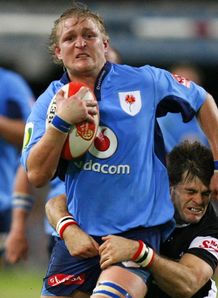 Related links
Also see
This weekend will see the defending champion Sharks travelling to Loftus Versfeld in Pretoria where they face 2009 winners the Blue Bulls.
It's the halfway stage of the competition and all the sides will be jostling for positions either in the top four or to avoid the two bottom-placed spots on the table, as it will mean relegation from the top flight, which will only field six teams in 2012.
After a slow start to their campaign, the Bulls have bounced back with three consecutive wins and in their last match at Loftus on August 19 they thrashed Griquas 44-20.
The Sharks were comprehensively outplayed and eventually lost their top-of-the-table clash against the Golden Lions last week, and know they can't afford to slip up again if they want to be among the contenders for the crown this year.
Both sides have lost several players to Springbok duty although the Sharks have proven that they do have more depth in their ranks than the Pretoria-based side.
The last time these two sides met the Sharks proved too strong, winning 35-16 on July 16 at Kings Park in Durban. In 2010, the Sharks won this clash 34-28 in Durban before the Bulls triumphed 40-34 in the return match in Pretoria.
However, the Sharks had the last laugh when they beat the Bulls 16-12 in their semi-final at Kings Park before trouncing WP in the final.
This weekend's action starts on Friday when the high-riding Golden Lions travel to the Mbombela Stadium in Nelspruit to face the Pumas.
All the other matches take place on Saturday, with the battle at Loftus being preceded by clashes between Griquas and Western Province in Kimberley and the Leopards and the Cheetahs in Potchefstroom.
Fixtures:
Friday, 2 September
Pumas v Golden Lions
Saturday, 3 September
Griquas v Western Province, Leopards v Free State Cheetahs, Blue Bulls v Sharks
Standings:
1. Golden Lions 27
2. Western Province 22
3. Sharks 22
4. Griquas 21
5. Cheetahs 18
6. Blue Bulls 17
7. Pumas 5
8. Leopards 5
---
Previews:
Pumas v Golden Lions
Mbombela Stadium, Nelspruit
The Lions will be looking to gather maximum points to consolidate their position at the top of the points table. Although the Pumas came close to causing an upset when they lost 31-27 in their first round encounter at Ellis Park, the Lions have gone from strength to strength since that game and should be on the winning side again.
The Pumas are still winless but have been bolstered by the return from injury of regular captain and flank, Corné Steenkamp, prop Dawie Steyn and scrum-half Shaun Venter, with their coach Jimmy Stonehouse expecting his charges to be competitive against the much-fancied Lions.
"We've been struggling with injuries, but these players are basically all fit again and it's great to have them back, as they form an experienced core for us. But even with them back, it won't be easy," said Stonehouse.
"The Golden Lions top the log and even though they've had their fair share of luck, but have been on the winning side in six of their matches, which brings confidence. That will only increase the pressure on us."
The Lions' will rely heavily on the boot of their fly-half Elton Jantjies, who gave a faultless goal-kicking display against the Sharks last week.
Prediction:The Pumas are always competitive on their home turf, so the Lions can expect a tough and physical battle. However, the Johannesburg-based side's confidence is high so they should pull this one off. Lions by eight!
The teams:
Pumas: 15 MJ Mentz, 14 Deon Scholtz, 13 JW Jonker, 12 Tian Meyer, 11 Wilhelm Looch, 10 Coenie van Wyk, 9 Shaun Venter, 8 Christo le Roux, 7 Jaco Bouwer, 6 Corne Steenkamp (c), 5 Marius Coetzer, 4 Rudi Matthee, 3 Ashley Buys, 2 Marthinus van der Westhuizen, 1 Dawie Steyn.
Replacements: 16 Torsten van Jaarsveld, 17 De-Jay Terblanche, 18 Willem Serfontein, 19 Reginald Kember, 20 Martin Sithole, 21 Tiaan Marx, 22 Johan Jackson.
Golden Lions: 15 Jaco Taute, 14 Deon van Rensburg, 13 Lionel Mapoe, 12 Alwyn Hollenbach, 11 Michael Killian, 10 Elton Jantjies, 9 Michael Bondesio, 8 Warren Whiteley/Joshua Strauss, 7 Michael Rhodes, 6 Cobus Grobbelaar, 5 Franco van der Merwe, 4 Wikus van Heerden, 3 Patric Cilliers, 2 Bandise Maku, 1 JC Janse van Rensburg.
Replacements: 16 Martin Bezuidenhout, 17 Jacobie Adriaanse, 18 Johan Snyman, 19 Warren Whiteley/Joshua Strauss, 20 Jaco Kriel, 21 Doppies La Grange, 22 Burton Francis.
Kick-off: 19:10 (17:10 GMT)
Referee: Jason Jaftha
---
Griquas v Western Province
GWK Stadium, Kimberley
Second-placed Western Province face Griquas who are on a high after their fine win over the Free State Cheetahs last week.
WP are also confident after fine wins over the Lions and the Pumas in successive matches.
In last year's corresponding fixture, WP thrashed the home side 50-3 in their own backyard, but coach Allister Coetzee said he expects a tougher encounter this year.
"It is going to be tough against Griquas. Last year's trip to Kimberley was probably the turning point in our season, but we know it is not going to be easy. They will be confident after a good display last week," he said.
"We know we will have to respect the ball this week. They are excellent at counter attacking and have a lot of players who can punish you. It will be vital to be accurate, to play the game in the correct areas and to capitalise when we are in those areas.
"Last week (against the Pumas) the bounce of the ball was not there for us, but no excuses we had plenty of chances that we did not take. That is what we are looking to change against Griquas - we need to be more clinical when we create opportunities," added Coetzee.
Prediction:This match will be an entertaining clash and WP will have to be at their best against the hosts, who have shown that they don't respect reputations at their home venue. It's going to be tight but WP will sneak in. WP by three!
The teams:
Griquas squad: Ivann Espag, Steph Roberts, Lourens Adriaanse, Ryno Barnes, Simon Westraadt, Hendrik Roodt, Frikkie Spies, Martin Muller, Justin Downey, Davon Raubenheimer, Jonathan Mokuena, Marnus Schoeman, Leon Karemaker, Sarel Pretorius, Marnus Hugo, Riaan Viljoen, Earl Rose, Hanno Coetzee, Matthew Rosslee, Jean Stemmet, Wilmaure Louw, Dusty Noble, Rocco Jansen, Rudi Vogt.
Western Province: 15 Conrad Jantjes, 14 Danie Poolman, 13 Johann Sadie, 12 Marcel Brache, 11 JJ Engelbrecht, 10 Demetri Catrakilis, 9 Dewaldt Duvenage, 8 Nick Koster, 7 Tertius Daniller, 6 Nick Fenton-Wells, 5 De Kock Steenkamp, 4 Hilton Lobberts, 3 Brok Harris, 2 Tiaan Liebenberg (c), 1 Steven Kitshoff.
Replacements: 16 Siyabonga Ntubeni, 17 Frans Malherbe, 18 Quinton Roux, 19 Nizaam Carr, 20 Louis Schreuder, 21 Berton Klaasen, 22 Steven Hunt.
Kick-off: 15:00 (13:00 GMT)
Referee: Marius Jonker
---
Leopards v Free State Cheetahs
Olën Park, Potchefstroom
The Leopards might be propping up the table but they have the ability to frustrate teams with their conservative approach to the their matches.
In consecutive weeks they lost matches to the Sharks and the Bulls but on both occassions their more fancied opponents failed to score four tries or more to secure a full haul of points.
The Cheetahs lost their derby against Griquas in Kimberley last week and will be keen to make a statement by notching a huge win against the struggling home side.
Leopards coach Leon Boshoff explained how important it is to retain possession if they want to be competitive against the Cheetahs.
"Looking back at the first round, it's clear we've not used our scoring opportunities, mainly because we have not protected the ball well enough when it was in our possession. When we keep the ball on attack, we've scored 95% of the time, but we only do that 20 per cent of the time," said Boshoff.
"Considering that we're defending most of the time, I can't really find too much fault with our defence. Now we need to get more possession and look after it better. It won't be easy against the Free State Cheetahs - they lost last week, but have shown what they can do in their match against the Pumas, where they scored 80 points."
Prediction:The Cheetahs have rested several of their first-choice players and are playing away from home. Despite that, expect them to win this one. Cheetahs by 15!
The teams:
Leopards: 15 George Tossel, 14 Hoffman Maritz, 13 Jovan Bowles, 12 Joubert Engelbrecht, 11 Vainon Willis, 10 Wesley Dunlop, 9 Whesley Moolman, 8 Morné Hanekom (c), 7 Luvuyiso Lusaseni, 6 Siya Mdaka, 5 Brad Mockford, 4 Brendan Snyman, 3 Stefan Bezuidenhout, 2 Marius Fourie, 1 BG Uys.
Replacements: 16 Jacques Moller, 17 Dewald Coetzee, 18 Roan van Heerden, 19 Juan Pretorius, 20 Robert Kruger, 21 Hennie Skorbinski, 22 Clayton Durand.
Free State Cheetahs: 15 Hennie Daniller, 14 Philip Burger, 13 Robert Ebersohn, 12 Philip Snyman, 11 Cameron Jacobs, 10 Johan Goosen, 9 Pieter van Zyl, 8 Boom Prinsloo, 7 Philip van der Walt, 6 Pieter Labuschagne, 5 Izak van der Westhuizen, 4 Francois Uys, 3 Coenie Oosthuizen, 2 Adriaan Strauss (c), 1 Marcel van der Merwe.
Replacements: 16 Hercu Liebenberg, 17 Trevor Nyakane, 18 Wilhelm Steenkamp, 19 Johan Wessels, 20 Tewis de Bruyn, 21 Sias Ebersohn, 22 Riaan Smit.
Kick-off: 16:00 (14:00 GMT)
Referee: Stuart Berry
---
Blue Bulls v Sharks
Loftus Versfeld Stadium, Pretoria
The biggest match-up of the weekend promises plenty of action and a bruising battle, no doubt. Although both have provided a large number of players for the Boks' World Cup squad they can still call on other internationals to plug those gaps.
The Bulls will field nine Springboks in their starting line-up while the Sharks have six Springboks and French international Frederic Michalak in their run-on side, as well as Boks Alistair Hargreaves and Adi Jacobs on the bench.
With so much quality on display this match will not be for the faint-hearted.
The Bulls are on a three-match winning streak but their coach Pine Pienaar know it will not be easy.
"We might have won three in a row now, but it means nothing until we have moved into the play-off positions," said Pienaar.
"Our aim remains to win the Absa Currie Cup this year and to put ourselves in that position we will have to keep on winning and beat the Sharks on the weekend."
Sharks coach John Plumtree expects an improved performance after his side's defeat to the Lions last week.
"Discipline is a real problem for us at the moment and we have to make sure we tidy it up, that's been one of the messages for the boys this week," said Plumtree.
Prediction: This is going to be the most physical clash of the weekend and don't be surprised if the battle amongst the forwards decides the outcome. Although the Bulls are gaining momentum this Sharks side has too much experience. Sharks by seven!
The teams:
Blue Bulls: 15 Jurgen Visser, 14 Akona Ndungane, 13 Zane Kirchner, 12 Wynand Olivier, 11 Bjorn Basson, 10 Louis Fouché, 9 Jano Vermaak, 8 CJ Stander, 7 Dewald Potgieter, 6 Warwick Tecklenburg, 5 Juandré Kruger, 4 Flip van der Merwe, 3 Werner Kruger, 2 Gary Botha (c), 1 Dean Greyling.
Replacements: 16 Willie Wepener, 17 Rossouw de Klerk, 18 Gerrit-Jan van Velze, 19 Arno Botha, 20 Dustin Jinka, 21 Francois Brummer, 22 Francois Venter.
Sharks: 15 Louis Ludik, 14 Sibusiso Sithole, 13 Stefan Terblanche, 12 Meyer Bosman, 11 Lwazi Mvovo, 10 Frederic Michalak, 9 Charl McLeod, 8 Jean Deysel, 7 Marcell Coetzee, 6 Keegan Daniel (c), 5 Ross Skeate, 4 Jan Andre Marais, 3 Eugene van Staden, 2 Craig Burden, 1 Dale Chadwick..
Replacements: 16 Kyle Cooper, 17 Wiehahn Herbst, 18 Anton Bresler, 19 Alistair Hargreaves, 20 Jacques Botes, 21 Conrad Hoffmann, 22 Adrian Jacobs.
Kick-off: 17:05 (15:05 GMT)
Referee: Mark Lawrence