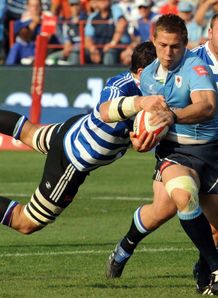 Related links
Also see
Western Province face their toughest test of the season when they host traditional rivals the Blue Bulls at Newlands on Saturday.
After an indifferent start in the tournament's opening round, both teams notched impressive wins at the weekend.
WP proved too strong for the Leopards in a convincing 47-9 victory in Potchefstroom last Friday, and the Blue Bulls came back from a 17-3 deficit to beat the Free State Cheetahs 33-30 the next day.
Matches between these two sides are usually tense affairs as they are the most successful unions in the Currie Cup's history. WP have won South Africa's prized trophy on 32 occassions and the Blue Bulls 23 times.
Both sides will field inexperienced line-ups, after their first-choice players were ruled out either through injury or selection to the Springbok squad.
Adding extra needle to this fixture is the fact that two WP players, Johann Sadie (centre) and JJ Engelbrecht (wing), have signed contracts to join the Blue Bulls in 2012.
The weekend's action starts on Friday when the fast-improving Pumas host Griquas at the Puma Stadium in Witbank. Saturday's other two fixtures sees the Sharks hosting the Free State Cheetahs in Durban and the Golden Lions face the Leopards in Johannesburg.
Fixtures:
Friday, 29 July
Pumas v Griquas
Saturday, 30 July
Sharks v Free State Cheetahs
Lions v Leopards
Western Province v Blue Bulls
Standings:
1. Golden Lions 9
2. Sharks 9
3. Western Province 7
4. Cheetahs 6
5. Blue Bulls 4
6. Pumas 2
7. Griquas 2
8. Leopards 0
---
Previews:
Pumas v Griquas
Puma Stadium, Witbank
After suffering narrow defeats to the Lions and the Sharks in their opening matches, the Pumas will want to get that much-needed first win of the season.
However, Griquas are also winless after their first two matches, so expect both sides to take huge risks in their quest for victory.
The Pumas side proved in their previous matches that they will not be making up the numbers in this year's competition. Coach Jimmy Stonehouse deserves a lot of credit for turning his side into a competitive unit and Griquas can expect a tough encounter.
The Witbank-based side have a solid set of forwards who do not shy away from the physical aspect of the game and in their captain Corné Steenkamp they have an astute leader, who has impressed in the way he has motivated his charges.
Griquas are smarting after their humiliating 49-11 defeat to the Lions at the weekend.
The boys from Kimberley got their campaign off to a good start with a 26-all draw away to Western Province in Cape Town, before taking that hammering in their own backyard against the Lions.
Griquas beat the Pumas 61-31 in Witbank and 58-25 in Kimberley last year, but this season the Pumas have shown, in those narrow losses to the Sharks and the Lions, that those days are well and truly over.
Prediction:Although both sides are desperate for wins, the Pumas will be more determined after showing in successive weeks that they can mix it with the more fancied sides. Pumas by seven!
The teams:
Pumas: 15 MJ Mentz, 14 Deon Scholtz, 13 JW Jonker, 12 Tiaan Marx, 11 Shandré Frolick, 10 Coenie van Wyk, 9 Shaun Venter, 8 Christo le Roux, 7 Jaco Bouwer, 6 Corné Steenkamp (c), 5 Marius Coetzer, 4 Willem Serfontein, 3 Ashley Buys, 2 Marthinus van der Westhuizen, 1 Dawie Steyn.
Replacements:16 Torsten van Jaarsveld, 17 De-Jay Terblanche, 18 Eduan van der Walt, 19 Reginald Kember, 20 Tian Meyer, 21 Johan Jackson, 22 Carl Bezuidenhout.
Griquas: 15 Riaan Viljoen, 14 Richard Lawson, 13 Jean Stemmet, 12 Barry Geel, 11 Dusty Noble, 10 Earl Rose, 9 Marnus Hugo, 8 Jonathan Mokuena (c), 7 Davon Raubenheimer, 6 Justin Downey, 5 Martin Muller, 4 Hendrik Roodt, 3 Lourens Adriaanse, 2 Ryno Barnes, 1 Steph Roberts.
Replacements:16 Matthew Dobson, 17 Jean Botha, 18 Frikkie Spies, 19 Burger Schoeman, 20 Warren Malgas, 21 Matthew Rosslee, 22 Rudi Vogt.
Kick-off:19:00 (17:00 GMT)
Referee: Marius Jonker
---
Sharks v Free State Cheetahs
Kings Park Stadium, Durban
Clashes between these two sides are usually exciting and this encounter will be no different.
Both teams have shown in recent years that they are exponents of the running game so expect plenty of end-to-end action.
Although the Sharks are still unbeaten, they will admit that they were somewhat lucky in their 23-22 win over the Pumas last week. The defending champions won that match thanks to a try in the dying minutes by loosehead prop Dale Chadwick.
Sharks fly-half Fredric Michalak was his team's hero in that encounter. The French international contributed 18 points and secured the victory when he converted Chadwick's try with virtually the last kick of the match.
The French international and former Springbok centre Marius Joubert will undergo fitness tests ahead of the match. If he is declared fit to play, expect Michalak to play a big part in plotting the Bloemfontein-based union's downfall.
The Cheetahs must still be wondering how they managed to lose their match against the Blue Bulls at the weekend. After leading 17-3 after half an hour in that encounter, the boys from Bloemfontein went down 33-30.
A lot will depend on the performance of their pivot Sias Ebersohn. If he maintains his excellent goalkicking record and manages to unleash the Cheetahs' dangerous backs, then things could get interesting.
Prediction:The Sharks' narrow win over the Pumas was a wake-up call for coach John Plumtree and his troops. don't expect them to fall in the same trap again. Sharks by seven!
The teams:
Sharks: 15 Louis Ludik, 14 Mark Richards, 13 Stefan Terblanche/Marius Joubert, 12 Meyer Bosman, 11 Sibusio Sithole, 10 Jacques-Louis Potgieter/Frederic Michalak, 9 Ross Cronje, 8 Keegan Daniel (c), 7 Marcell Coetzee, 6 Jacques Botes, 5 Ross Skeate, 4 Anton Bresler, 3 Wiehahn Herbst, 2 Craig Burden, 1 Dale Chadwick.
Replacements:16 Kyle Cooper, 17 Eugene van Staden, 18 Jan Andre Marais, 19 Francois Kleinhans, 20 Jacobus Reinach, 21 Heimar Williams/Jacques-Louis Potgieter, 22 Gouws Prinsloo.
Free State Cheetahs: 15 Hennie Daniller, 14 Riaan Smit, 13 Corné Uys, 12 Andries Strauss (c), 11 Rayno Benjamin, 10 Sias Ebersohn, 9 Tewis de Bruyn, 8 Boom Prinsloo, 7 Pieter Labuschagne, 6 Johan Wessels, 5 Waltie Vermeulen, 4 Francois Uys, 3 WP Nel, 2 PW van Vuuren, 1 Marcel van der Merwe
Replacements:16 Michael van Vuuren, 17 Trevor Nyakane, 18 Izak van der Westhuizen, 19 Pieter Myburgh, 20 Piet van Zyl, 21 Philip Snyman, 22 Philip Burger.
Kick-off: 19:00 (17:00 GMT)
Referee: Jason Jaftha
---
Golden Lions v Leopards
Coca-Cola Park Stadium, Johannesburg
After an impressive 49-11 away win over Griquas in Kimberley, the Golden Lions will be full of confidence as they head into this clash.
The Leopards have traditionally been the whipping boys of the competition, and after Free State and Western Province put 40 points past them in their opening fixtures, the Lions will be looking for a similar result this weekend.
However, this match could see the hapless Leopards losing by an even bigger winning margin. The Lions gave a clinical first half performance in their win over Griquas which ultimately secured them their victory.
With regular skipper Doppies la Grange ruled out with a hamstring injury, flanker Josh Strauss will take over the captaincy for this clash.
Scrum-half Jano Vermaak led the way in the win against Griquas by scoring a hat-trick of tries within the first 25 minutes of the match. If the Leopards allow him too much space he could have another field day on attack.
The home side's forwards and backs combined well in the win in Kimberley, and if they can replicate that performance the Leopards will spend most of this match defending.
Prediction: This is going to be the most one-sided match of the weekend. Expect the Lions to dominate in all facets of play. Lions by 30!
The teams:
Lions:15 Michael Killian, 14 Deon van Rensburg, 13 Waylon Murray, 12 Alwyn Hollenbach, 11 Dylon des Fountain, 10 Burton Francis, 9 Jano Vermaak, 8 Joshua Strauss (c), 7 Derick Minnie, 6 Cobus Grobbelaar, 5 Franco van der Merwe, 4 Wikus van Heerden, 3 Jacobie Adriaanse, 2 Bandise Maku, 1 Patric Cilliers.
Replacements:16 Martin Bezuidenhout, 17 JC Janse van Rensburg, 18 Johan Snyman, 19 Michael Rhodes, 20 Michael Bondesio, 21 Hein Cronje, 22 Jannie Boshoff/Andries Coetzee.
Leopards:15 George Tossel, 14 Danie Dames, 13 Charl Weideman, 12 Joubert Engelbrecht, 11 Wynand Willis, 10 Clayton Durandt (c), 9 Whestley Moolman, 8 Morné Hanekom, 7 Luvuyiso Lusaseni, 6 Philip de Wet, 5 Brendon Snyman, 4 Roelof van Heerden, 3 Stephan Bezuidenhout, 2 Stoffel Duvenhage, 1 Bennie Uys.
Replacements:16 Bêrend Botha, 17 Gavin Williamson, 18 Christo van Niekerk, 19 Juan Pretorius, 20 Theo van Wyk, 21 Wesley Dunlop, 22 Walter Venter.
Kick-off:19:00 (17:00 GMT)
Referee: Sindile Mayende
---
Western Province v Blue Bulls
Newlands Stadium, Cape Town
Western Province and the Blue Bulls clash at Newlands in Cape Town what could be the most explosive encounter of the weekend.
Both sides recorded morale-boosting wins at the weekend after disappointing results in the opening round of the competition.
The home side will be keen to impress their supporters after they had to be satisfied with a 26-all draw against Griquas in their first match at Newlands in Round One of the competition.
North versus South derbies are normally bruising battles. With this in mind, WP coach Allister Coetzee has handed the hooking duties and captaincy to Tiaan Liebenberg, whose phyical approach will come in handy against the boys from Pretoria.
The performance of WP's inexperienced fly-half Demetri Catrakilis will be closely monitored. After a steady performance in the Cape side's 47-9 win over the lowly Leopards on Friday, he can expect a much tougher assignment against the Blue Bulls.
The Blue Bulls will rely heavily on the boot of their fly-half Deon Brummer, who - with his accurate goal-kicking - contributed 18 points in their 33-30 win over the Free State Cheetahs.
In that match he got the better of Cheetahs pivot Sias Ebersohn, and his battle with Catrakilis could determine the outcome of this match.
Another interesting battle takes place in midfield, where WP's Pretoria-bound centre Johann Sadie, will come up against Stephan Dippenaar. This clash could be a seen as a trial for the Bulls' number 13 jumper for next year's Super Rugby campaign.
Prediction: It's going to be close but the visitors have their tails up after that memorable win over the Cheetahs. Blue Bulls by three!
The teams:
Western Province: 15 Conrad Jantjes, 14 Danie Poolman, 13 Johann Sadie, 12 Tim Whitehead, 11 JJ Engelbrecht, 10 Demetri Catrakilis, 9 Dewaldt Duvenage, 8 Nick Koster, 7 Siya Kolisi, 6 Rohan Kitshoff, 5 De Kock Steenkamp, 4 Hilton Lobberts, 3 Brok Harris, 2 Tiaan Liebenberg (C), 1 Wicus Blaauw.
Replacements:: 16 Deon Fourie, 17 Frans Malherbe, 18 Adriaan Fondse, 19 Nick Fenton-Wells, 20 Nic Groom, 21 Berton Klaasen, 22 Marcel Brache.
Blue Bulls: 15 Jurgen Visser, 14 Gerhard van den Heever, 13 Stephan Dippenaar, 12 Stefan Watermeyer, 11 Akona Ndungane, 10 Francois Brummer, 9 Dustin Jinka, 8 Gerrit-Jan van Velze, 7 Dewald Potgieter, 6 Derick Kuün, 5 Juandré Kruger, 4 Fudge Mabeta, 3 Rossouw de Klerk, 2 Gary Botha (c), 1 Corné Fourie.
Replacements:16 Willie Wepener, 17 Frik Kirsten, 18 Warwick Tecklenburg, 19 CJ Stander, 20 Lohan Jacobs, 21 Marnitz Boshoff, 22 Francois Venter.
Kick-off:19:00 (17:00 GMT)
Referee: Craig Joubert