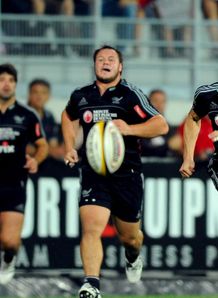 Related links
Teams
Rodd Penney makes his first appearance in the Aironi starting line-up to face Edinburgh at Stadio Zaffanella on Saturday.
Penney, who joined Aironi from Saracens, will play alongside Gilberto Pavan in midfield as the Italian team look for their first Magners League victory.
The backline is completed by Giulio Toniolatti and Danwel Demas on the wings and Julien Laharrague at full-back.
Penney will make his Magners League debut after just a one week training with his new team-mates.
"I'm pretty excited to be here, (former Saracens team-mates) Fabio (Ongaro) and Matias (Aguero) are helping me," he said.
"All the players in the team are very friendly and really welcoming. I'm very happy to have the opportunity to play this week and hopefully against Edinburgh we go really well and we can play some exciting rugby".
"I think what we have to do is just playing with a lot of intensity. Italian teams are known for being very physical and starting the game very fast, so hopefully we can do that. We should maintain that rhythm for the whole game and we can put together a very good performance".
Elsewhere, the Tebaldi-Mercier half-back duo that started the competition is restored.
In the back row Nick Williams returns after a week off and take the place of injured Gareth Krause, who fractured a bone in his foot during a training session on Tuesday and will be sidelined for almost two months.
In the second row Carlo Del Fava returns to action alongside captain Quintin Geldenhuys. The front row also returns to full-strength, with Alberto De Marchi at loosehead, Salvatore Perugini at tighthead prop, and Fabio Ongaro at hooker.
Meanwhile, Edinburgh Head Coach Rob Moffat has challenged his players to step up from their opening Magners League victory of the season for what he believes will be a physically demanding away match
The fixture will be the the first time Edinburgh have faced an Italian club in the competition.
Moffat has made five changes to the team that started the 32-24 success against Leinster. Jim Thompson makes his first appearance of the season - having recovered from tidy-up knee surgery over the summer - in place of Chris Paterson who took a knock to his left foot on Friday.
Elsewhere Greig Laidlaw and Kyle Traynor will start at scrum-half and prop respectively - with Mike Blair and Allan Jacobsen on the bench - while in the back-row Fraser McKenzie is in for Delhi bound Scott Newlands at blindside flanker and Alan MacDonald is back from the hip problem which he sustained against Cardiff at openside instead of Ross Rennie.
"It's important we build on what we did well against Leinster on Friday, especially that spell in the second-half where we scored three tries," said Moffat.
"This weekend is about improvement. We realise Aironi are searching for their first win but they will be tough opposition, particularly up front. We simply cannot afford to drop back into some of the individual errors we made in the first three league games."
Moffat explained that Paterson was now engaged in a rehabilitation programme with the Edinburgh physios with a view to being ready for the Heineken Cup game against Cardiff a week on Saturday.
The other changes Moffat put down to managing his squad. Six Edinburgh players - Alex Blair, John Houston, Lee Jones, Stuart McInally, Scott Newlands and Andrew Turnbull - will represent Scotland Sevens in the Commonwealth Games in Delhi
Form: Aironi Rugby are still searching for an elusive first ever victory in the Magners League, their solo league point so far coming during the 15-22 defeat to Ulster in their only previous home match in the competition. Edinburgh Rugby's unwanted run of seven successive Magners League defeats ended with their 32-24 home victory over Leinster on Friday. The Scotsmen are yet to win on the road in 2010, their most recent away triumph was 17-16 at Scarlets on 4 December 2009.
The teams:
Aironi: 15 Julien Laharrague; 14 Giulio Toniolatti, 13 Rodd Penney, 12 Gilberto Pavan, 11 Danwel Demas, 10 Ludovic Mercier, 9 Tito Tebaldi, 8 Nick Williams. 7 Josh Sole, 6 Andrea Benatti, 5 Quintin Geldenhuys (c), 4 Carlo Antonio Del Fava, 3 Salvatore Perugini, 2 Fabio Ongaro, 1 Alberto De Marchi
Replacements: 16 Roberto Santamaria, 17 Andrea De Marchi, 18 Luca Redolfini, 19 Marco Bortolami, 20 Jaco Erasmus, 21 Pablo Canavosio, 22 Gabriel Pizarro, 23 Riccardo Bocchino.
Edinburgh: 15 Jim Thompson, 14 Mark Robertson, 13 Ben Cairns, 12 Alex Grove, 11 Tim Visser, 10 David Blair, 9 Greig Laidlaw, 8 Roddy Grant, 7 Alan MacDonald, 6 Fraser McKenzie, 5 Scott MacLeod, 4 Esteban Lozada, 3 Geoff Cross, 2 Ross Ford, 1 Kyle Traynor
Replacements: 16 Andrew Kelly, 17 Allan Jacobsen, 18 David Young, 19 Craig Hamilton, 20 David Denton, 21 Mike Blair, 22 James King, 23 Tom Brown
Date: Saturday, October 2
Venue: Stadio Zaffanella
Kick-off: 19:05 (17.05 GMT)
Referee: Dudley Phillips (IRFU)
Assistant Referees: Stefano Mancini, Stefano Roscini (both FIR)
TMO: Guilio de Santis (FIR)