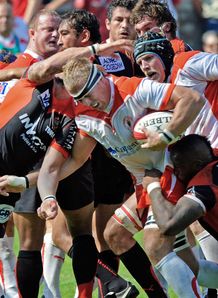 Related links
Also see
After a false start at home last week, Top 14 favourites Toulon must travel to Biarritz on Friday while Castres will host Toulouse in Béziers.
It took just one round of the French domestic championship to produce a huge upset, but Bayonne were good-value for their win in Toulon and the Basques will expect to make it two from two when they host newcomers Agen this weekend.
Leaders after Round One Stade Francais will fancy their chances of staying top of the standings at home to La Rochelle although the newly-promoted Maritimes showed they won't be pushovers by marking their entry into the top flight with an opening-day victory over Castres.
Facing a tough draw in the first half of the season, Brive got off to a terrible start by losing to Racing Métro last week and have another difficult assignment when they host 2009 champions Perpignan.
Racing will be hunting their second win on the road in Montpellier while defending champs Clermont will be looking for their first success of the season in Bourgoin.
Saturday's only game sees Brive move their gala match with the European champions to the 18,000-seater Stade de la Méditérranée in Béziers - which is actually closer to Toulouse!
Fixtures:
Friday, August 20
Bourgoin v Clermont
Brive v Perpignan
Stade Français v La Rochelle
Montpellier v Racing Métro
Bayonne v Agen
Biarritz v Toulon
Saturday, August 21
Castres v Toulouse
Standings:
1 Stade Francais 5
2 Toulouse 5
3 Biarritz 4
4 Perpignan 4
5 Racing Metro 4
6 La Rochelle 4
7 Bayonne 4
8 Toulon 1
9 Brive 1
10 Castres 1
11 Clermont 0
12 Montpellier 0
13 Agen 0
14 Bourgoin 0
________________________________________________________________________
Previews:
Friday, August 20
CS Bourgoin-Jallieu v ASM Clermont Auvergne
Stade Pierre Rajon, Bourgoin
Sans points, the champions make the relatively short trip to Bourgoin aiming for all five, but they must improve their line-out if they are to get anything at Pierre Rajon.
Bourgoin coach Xavier Péméja read the riot act to his team, especially the forwards, after they were totally dominated in all phases in Paris last week.
Deprived of Mickaël Forest, Sylvère Tian and Olivier Milloud, who are all injured, the Berjalliens could be in for another hiding up front. Argentine fly-half Alberto Di Bernardo, who hurt his hand against Stade Français, should however be fit to keep his place.
Unlike last week, Clermont will have all their French internationals available except winger Julien Malzieu, who has an Achilles injury. South African centre Marius Joubert and Georgian prop Davit Zirakashvili have also been ruled out of a squad that features eight changes.
Despite the disappointment of last week's loss in Perpignan, Clermont coach Vern Cotter is playing a patient game.
"We know we have things to put right for the match against Bourgoin," he said.
"But that will not be easy to see come right straight away as Bourgoin pose us a real problem."
Results last season: Clermont won both games: 28-37 away; 32-3 at home
Prediction: Easy (even if Cotter is being rather diplomatic). Clermont by at least twelve points
Kick-off: 18:45 (16:45 GMT)
Referee: Pascal Gauzère
________________________________________________________________________
CA Brive Corrèze v USA Perpignan
Stade Amédée Domenech, Brive
One of two teams to lose at home last week (to Racing Métro), Brive simply cannot afford another faux pas as they face a very unfavourable draw in the next few months.
Victory was within the reach for the Corréziens last week, but some poor finishing has left them under pressure in only the second round.
Perpignan's set piece was in impressive form against Clermont and the Catalans will base their attack on their pack once again.
If you want to stay away from hospital, don't put on a Perpignan number ten jersey. The Catalans have lost three fly-halves to injury and sickness in a matter of weeks.
This means that there is a huge opportunity for France U20 international Gilles Bosch to shine.
Results last season: Perpignan won 21-9 at home; Brive won 29-9 at home
Prediction:It'll be close but we'll back the hosts. Brive by a whisker
Kick-off: 19:00 (17:00 GMT)
Referee: Romain Poite
________________________________________________________________________
Stade Français v Stade Rochelais Atlantique
Stade Charléty, Paris
What a start for La Rochelle! Even though their scrum was being demolished, Les Maritimes somehow managed to tackle their way to four points against Castres. No one has given the league's smallest club a hope in hell of avoiding the drop, but in front of their home fans, they put on a display of pure courage.
But the newcomers shouldn't expect Stade Français fly-half Lionel Beauxis to let them off as lightly in front of goal as they were last week. They also face another very strong scrummaging unit.
Perhaps more importantly, they will face a Parisian side out to play expansive rugby and, unlike Castres, seem to have the form to make their attacks count.
James Haskell takes over from Pierre Rabadan in the back row in the only change to Stade's bonus-point earning team.
La Rochelle on Wednesday signed experienced Romanian international prop Petrisor Toderasc on a one-year contract. The 50-cap, 30-year-old had been looking for a club since he was released after a five-year spell with Brive and should make his debut next week against Bourgoin.
Prediction: In Paris? Stade Français to win with a bonus point
Kick-off: 19:00 (17:00 GMT)
Referee: Laurent Cardona
________________________________________________________________________
Montpellier HR v Racing-Métro 92
Stade Yves Du Manoir, Montpellier
Montpellier narrowly missed out on a losing bonus-point in Biarritz last week and if it wasn't for a very poor start to the game, they could have caused a major upset. Despite a loss in the first game of the Fabien Galthié era, les Héraultais will take a lot of confidence from their strong second-half comeback.
Title contenders Racing-Métro, who play three away games in the first three weeks, got the job done in Brive last week without doing anything flamboyant. Ahead of a tough trip to Toulon next week, they need to get their pack moving.
Lionel Nallet and Francois Steyn are both back in the squad with the South African starting at full-back.
Montpellier skipper Fulgence Ouedraogo is fit to play despite undergoing surgery to his eye during the week. Full-back Benjamin Thiéry will make his first appearance this season off the bench but centre Grant Rees and Argentine prop Juan Figallo are amongst a handful of injuries.
Previous result: Racing 18-14 at home; Montpellier won 22-19 at home
Prediction: Another close one which means it's safest to back the home side.Montpellier by three or four points
Kick-off:19:00 (17:00 GMT)
Referee: Jean-Luc Rebollal
________________________________________________________________________
Aviron Bayonnais v SU Agen
Stade Jean Dauger, Bayonne
The surprise package of the opening weekend, Bayonne play their first home game of the season with four invaluable points already in the bag.
More good news for the Basques sees former Stormers full-back Joe Pietersen and former Racing Métro prop Clément Baïocco make their debuts after missing last week due to injury. Craig Gower is at inside centre as Benjamin Boyet retains the fly-half berth.
Wing Yoann Huget, who scored twice against Toulon last week, should start from the bench against his former team-mates but Kiwi lock Troy Flavell is still in l'infirmerie.
Defeat in Toulouse had a silver lining for Agen. Although off the pace in the opening stages les Agenais showed that they can compete at this level: not everyone can score three tries at Stade Ernest-Wallon.
Former Cardiff and Toulon centre Jamie Robinson will play his first Top 14 game for Agen. South African Conrad Barnard replaces Valentin Courrent at fly-half.
Prediction: Based on last week's perfromance the hosts should come good. Bayonne by ten points
Kick-off:19:00 (17:00 GMT)
Referee: Cyril Lafon
________________________________________________________________________
Biarritz Olympique v RC Toulon
Parc des Sports d'Aguilera, Biarritz
A sold-out stadium awaits the self-proclaimed championship favourites on the Basque coast.
After their shock loss at home, Jonny Wilkinson's return will be a welcome boost for a Toulon side still getting to know each other and missing several stars such as captain Joe van Niekerk.
RCT need all the good news they can get at the moment as Philippe Saint-Andrè's team face a Biarritz side that has France number eight Imanol Harinordoquy back after recovering from a rib injury.
However, Saint-Andrè is not downhearted after the opening defeat.
"We've got to move up a gear that's for sure," said Saint Andre.
"However, there is no need to panic, we have new players who have just arrived and I think it will take four to five weeks to integrate them properly into the side."
However, Toulon will do well to avoid a second successive defeat as also amongst the missing are Scotland back Rory Lamont and experienced Argentine duo Felipe Contepomi and Juan Fernandez Lobbe, who are forced to sit it. George Smith will play at number eight.
Good news for Toulon however is the return of scrum-half Pierre Mignoni while Van Niekerk is training again.
Biarritz will be without France international prop Fabien Barcella, who is out for seven months after rupturing an Achilles tendon just hours before the first game at Aguilera.
But they will probably start with Zimbabwe-born American international winger Takudzwa Ngwenya, who is back in favour after being punished by the club for a disciplinary offence.
Biarritz' backs coach Jack Isaac said that the fact Toulon had been beaten in their opener would make their clash all the harder.
"We always knew it would be a difficult match whatever the circumstances," said Isaac.
"Now that they have lost at home that only confirms that it is going to be a red-hot encounter. We are going to prepare for it with a little bit of fear in our bellies and perhaps that will help us rise to the challenge."
Results last season: Biarritz won 23-9 at home; Toulon won 21-20 at home.
Prediction: It'll be tight, but BO are the more settled side. Biarritz by five points
Kick-off:21:00 (19:00 GMT)
Referee: Patrick Péchambert
________________________________________________________________________
Saturday, August 21
Castres Olympique v Stade Toulousain
Stade de la Méditérranée, Béziers
The Stade de la Méditérranée only holds 3500 more people than Brive's home at Amédée-Domenech, so one has to wonder if it is worth moving a game against the European champions to a town closer to Toulouse than Brive!
Toulouse sent out a warning to the rest of France on the opening day: The 'new' laws favour attacking rugby, and no one keeps the ball in hand better than the Toulousains.
Castres have put their loss to La Rochelle down to a 'lack of humility' - that shouldn't be a problem against the side that hammerred them in last year's play-offs.
Toulouse are resting full-back Clément Poitrenaud and fly-half David Skrela - in line with the rules that require players who toured in June with the national squad to be rested for one of the first three matches - but welcome back French internationals Thierry Dusautoir, Vincent Clerc and Florian Fritz.
France U20 fly-half Jean-Marc Doussain could start at number ten.
Louis Picamoles has been ruled out for six weeks and Yannick Jauzion is doubtful due to an eye injury.
Results last season: Castres won 30-10 at home; Toulouse won 35-12 at home and 35-12 in the play-offs.
Prediction: Castres won't be able to count on home support. Toulouse by nine points
Kick-off:20:45 (18:45 GMT)
Referee: Christophe Berdos