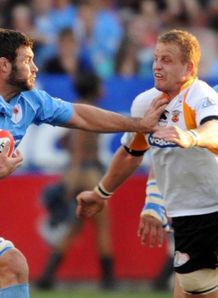 Related links
Also see
The Blue Bulls have called in the big guns for their 'must-win' fixture against the Cheetahs on Saturday while Ruan Pienaar is back at scrum-half for the Sharks.
Springboks Victor Matfield, Danie Rossouw, Pierre Spies and Morné Steyn, are all included in the Pretoria team's starting line-up as Blue Bulls and their visitors from the Free State scrap for a place in the play-offs.
The Sharks have a far easier fixture at home to the Leopards but have nevertheless picked a very strong team, including Pienaar behind the scrum.
Having been moved from scrum-half to fly-half to full-back for the Springboks, Pienaar will now be considered primarily as a number nine for the rest of the season according to Sharks coach John Plumtree, who says he wants the dejected playmaker to start enjoying his rugby again.
"He needs to start feeling good about his game and the game of rugby," Plumtree told a media gathering in Durban.
"Having been shifted around, he's had a bit of disappointment and we want to see him enjoy his rugby again."
Call us cynical, but it sounds like a nice way of saying 'Juan Martin Hernandez is one of the best fly-halves in the world, we're not going to drop him when Pienaar is just as good at scrum-half.'
Either way, what a treat it will be to see the pair play as a combination. Poor Leopards.
In Cape Town, the Griquas will know that another upset win over Western Province would virtually assure them of a place in the semi-finals, possibly at home. The hosts at Newlands have set their sights on finishing top of the table by the end of the season, so we're in for a cracker.
Elsewhere, the Lions will be out to save some face at home to Boland.
Fixtures:
Friday, September 25
Sharks v Leopards
Saturday, September 26
Western Province v Griquas
Lions v Boland
Blue Bulls v Free State Cheetahs
Standings:
1 The Sharks 40
2 Western Province 39
3 Griquas 38
4 Blue Bulls 32
5 Cheetahs 29
6 Lions 27
7 Leopards 6
8 Boland Kavaliers 5
_________________________________________________________________
Previews
Sharks v Leopards
Absa Stadium, Durban
A depleted leopards team + A near-full strength Sharks outfit + The Shark Tank = A bonus-point win for the home side.
With top spot in the standings -and therefore a potential home final - on the line, the Sharks are taking nothing for granted and will welcome the Leopards to Durban with a very strong side.
For all their endeavour and eagerness to run the ball, we can't see the visitors living with the Sharks for more than a half as they are guaranteed to pay heavily for the slightest error.
In addition to Ruan Pienaar's return behind the scrum, there are a number of changes to the Sharks team.
Luzuko Vulindlu is back from injury to replace Odwa Ndungane on the right wing. The latter is being rested after the Tri-Nations.
Michael Rhodes will start his first Currie Cup game of the season in the number seven jersey, with Jean Deysel injured and Keegan Daniel carrying a thumb injury that will keep him on the bench.
Steven Sykes is also carrying an injury niggle and is named among the substitutes as a result, with Alistair Hargreaves getting his first start of the season in the second row.
In the front row, Pat Cilliers gets a chance to start at loosehead prop, while Skipper Badenhorst will start at hooker with Bismarck du Plessis on the bench and Craig Burden out injured.
Rory Kockott returns to the bench after being left out of the matchday 22 last weekend with Adrian Jacobs adding further experience and firepower off the wood.
The visitors will be without regular captain Wilhelm Koch, and five other players for the trip to the East coast.
New captain André Swanepoel will have to do battle without full-back Russell Jeacocks, inside centre Basil de Doncker, fly-half Cecil Dumond (club duty), prop Nardus Lombard and scrum-half Michael Bondesio ('flu).
Koch and Bondesio have been two of the Leopards' best players during the maiden Currie Cup campaign and will be sorely missed.
Jean Tiedt starts at scrum-half inside the first division's top scorer last year, Clayton Durand
Tiedt is one of a few ex-Sharks who couldn't cut it in Durban along with full-back Danie Dames, inside centre Berndt Theissinger and flanker Thabo Mamojele.
The pack has been bulked up with the return of loosehead Divan Kotzé who replaces Nardus Lombard.
The Leopards will go into battle without a reserve lock on the bench using Mamojele as the lock cover.
The Sharks: 15 Stefan Terblanché (c), 14 Luzuko Vulindlu, 13 Waylon Murray, 12 Andries Strauss, 11 Lwazi Mvovo, 10 Juan Hernandez, 9 Ruan Pienaar, 8 Ryan Kankowski, 7 Michael Rhodes, 6 Jacques Botes, 5 Albert van den Berg, 4 Alistair Hargreaves, 3 Jannie du Plessis, 2 Skipper Badenhorst, 1 Patric Cilliers.
Replacements: 16 Bismarck du Plessis, 17 Deon Carstens, 18 Steven Sykes, 19 Keegan Daniel, 20 Rory Kockott, 21 Monty Dumond, 22 Adrian Jacobs.
Leopards: 15 Danie Dames; 14 Jovan Bowles, 13 Deon van Rensburg, 12 Berndt Theissinger, 11 Jan van Zyl; 10 Clayton Durand, 9 Jean Tiedt; 8 RW Kember, 7 Thabo Mamojele, 6 André Swanepoel (c), 5 Draad Linde, 4 Ligtoring Landman, 3 Os van der Walt, 2 Gavin Williamson, 1 Divan Kotzé.
Replacements: 16 Pellow van der Westhuizen, 17 Nardus Lombard, 18 Bennie Adams, 19 Riaan Swanepoel, 20 Chris Erasmus, 21 Neil Jacobs, 22 Bom Samaai.
Kick-off: 19.10 (17.10 GMT)
Referee: Jonathan Kaplan
_________________________________________________________________
Western Province v Griquas
Newlands Stadium, Cape Town
One of two massive clashes this weekend. Both sides have targeted this match as their ticket to a home semi-final. Optimistic as it sounds, a shock win at Newlands is well within the Griquas' reach.
Let's not forget that Dawie Theron's team beat arguably a stronger WP side in Kimberley. Gone are Chris Jack, Willem de Waal, Adriaan Fondse and Tiaan Liebenberg. Schalk Burger is not available due to a broken rib.
Don't be surprised if Province rely heavily on their pack. The last thing they want is a loose and open game which will give the likes of Naas Olivier, Sarel Pretorius and Riaan Viljoen to counter attack.
There is still no place in the Western Province starting XV for Springbok scrum-half Ricky Januarie, under the pretext that Allister Coetzee does not want to disrupt his side. Yet 19-year-old Brumbies fly-half Matt Toomua, who only arrived in Cape Town on Thursday, is a surprise inclusion in the team.
Province have signed Toomua for the rest of the season as cover for Peter Grant, who has barely enjoyed a break since the start of the year.
Second-string fly-half Conrad Hoffmann has been sent to play club rugby for the Maties, in an effort to expose him to fly-half play after it was decided to use him at number ten instead of scrum-half following the injury to De Waal.
Theron has made five changes to his match day 22.
Loose forward Sean Plaatjies and lock Brendon Snyman have been promoted to the starting XV which means Rohan Kitshoff and Heinrich Stride are relegated to the bench.
Prop Zane Killian, who broke his finger during last weekend's match against the Lions, is replaced by Albertus Buckle. Emerging Springbok winger Bjorn Basson has also recovered from his ankle injury and is also selected on the bench.
Western Province: 15 Joe Pietersen, 14 Tonderai Chavhanga,13 Frikkie Welsh, 12 Juan de Jongh, 11 Gio Aplon, 10 Peter Grant, 9 Dewaldt Duvenage, 8 Luke Watson (c), 7 Duane Vermeulen, 6 Francois Louw, 5 Anton van Zyl, 4 De Kock Steenkamp, 3 Brock Harris, 2 Tiaan Liebenberg, 1 Wicus Blaauw.Replacements: 16 Deon Fourie, 17 JC Kritzinger, 18 Pieter Louw, 19 Martin Muller, 20 Ricky Januarie, 21 Matt Toomua, 22 Sireli Naqelevuki
Griquas: 15 Riaan Viljoen, 14 Trompie Nontshinga, 13 Jaco Bekker, 12 Barry Geel, 11 Dewald Pretorius, 10 Naas Olivier, 9 Sarel Pretorius, 8 Jonathan Mokuena (c), 7 Davon Raubenheimer, 6 Sean Plaatjies, 5 Jacques Lombard, 4 Brendon Snyman, 3 Ruaan du Preez, 2 Rayno Barnes, 1 Albertus Buckle.
Replacements: 16 Andries Kruger, 17 Simon Westraadt, 18 Heinrich Stride, 19 Rohan Kitshoff, 20 Donald Stevens, 21 Wilmaure Louw, 22 Bjorn Basson.
Kick-off: 15.00 (13.00 GMT)
Referee: Paul Marks (Australia)
________________________________________________________________
Lions v Boland
Coca-Cola Park, Johannesburg
The Lions still have a mathematical chance of making the play-offs, but we wouldn't recommend betting your life savings on that happening.
Boland will head to Jo'burg with thoughts of a losing bonus-point which could come in very handy when it's time to determine who faces who in the relegation play-offs
The Lions struggled to a 19-13 win when the teams met in Wellington - surely they will do better at home.
Lions Head Coach Coetzee said they were intent on climbing the standings.
"We are a proud team, and our pride is at stake. We are not underestimating Boland, but we will be going in with all guns blazing," he said.
"We are not going to give up or lose focus or throw in the towel. We will prepare for each match as we have for the last eleven."
Willem Alberts, who was ruled out of last weeks' game, returns to the role of vice-captain for the home side.
Scrum-half Chris Jonck will wear the number nine jersey following the news that regular scrum-half Jano Vermaak has been ruled out for the rest of the season due an ankle injury and undergo surgery on Friday.
Coetzee has also selected centre Alwyn Hollenbach at full-back with Earl Rose relegated to the bench. Jannie Boshoff will start at centre.
Boland boss Chester Williams sprang a major surprise on Tuesday when he named flanker Wendal Wehr on the left wing.
In the absence of regular flyers Cornal Hendricks and Deon Scholtz the Kavaliers were vulnerable on the wing against Griquas and the Blue Bulls and Williams firmly believes Wehr has what it takes to become an top striker out wide.
"I was very surprised with his speed. Currently he is the second fastest player in my squad," said Williams.
On the right wing Scholtz is back after recovering from a broken nose, but Hendricks is still sidelined with an ankle injury.
Williams has also picked three players on loan from Western Province.
They are Springbok flanker Hilton Lobberts and the two props, Schalk Ferreira and Michael De Neuilly-Rice.
However, Ferreira will make his Boland debut as a hooker with De Neuilly-Rice on the loosehead side and Janro van Niekerk moving over to tighthead.
Lions: 15 Alwyn Hollenbach, 14 Dusty Noble, 13 Jannie Boshoff, 12 Doppies la Grange, 11 Johan Jackson, 10 Herkie Kruger, 9 Chris Jonck, 8 Willem Alberts, 7 Derrick Minnie, 6 Cobus Grobbelaar (c), 5 Franco van der Merwe, 4 Willems Stoltz, 3 Gert Muller, 2 Hans Van Dyk, 1 JC Janse van Rensburg.
Replacements: 16 Derek Harwood, 17 Kevin Buys, 18 Nico Luus, 19 Todd Clever, 20 Earl Rose, 21 Walter Venter, 22 Jaco Taute.
Boland: 15 Hayden Groepes, 14 Deon Scholtz, 13 PJ Vermeulen, 12 Danré Gerber, 11 Wendal Wehr, 10 Elgar Watts, 9 Marnus Hugo, 8 Junior Bester, 7 Hilton Lobberts, 6 David Hendricks, 5 Rito Hlungwane (c), 4 George Earl, 3 Janro van Niekerk, 2 Schalk Ferreira, 1 Michael De Neuilly-Rice.
Replacements: 16 Harry Vermaas, 17 Jacobie Adriaanse, 18 Nico Esterhuyse, 19 Angelo Brinkhuys, 20 Charlie King, 21 Dewey Swartbooi, 22 Justin Peach.
Kick-off: 15.00 (13.00 GMT)
Referee: Mark Lawrence
______________________________________________________________
Blue Bulls v Free State Cheetahs
Loftus Versfeld, Pretoria
Matfield, Rossouw, Spies, Steyn: The Bulls have brought out the heavy artillery for Saturday's crunch game at Loftus.
While the Bulls probably could loose and still sneak into the play-offs through the back door, the Cheetahs absolutely MUST win.
After a dismal start to the season, the Cheetahs' victory over the Bulls in Bloemfontein was the catalyst for a winning streak that brought them right back into contention.
While memories of that game will serve as motivation for Naka Drotské's men, the opposition will present a very different face with all those Boks back in front of the Loftus faithful.
Rossouw will partner Matfield in the second row as the home side line-up six Tri-Nations Boks in the starting XV (centre Wynand Olivier and Gurthrö Steenkamp have been retained after playing their first match last Saturday. Chiliboy Ralepelle is on the bench.)
Bakkies Botha, Fourie du Preez (both injured) and Bryan Habana (honeymoon), were not considered.
Matfield takes over the captaincy from Dewald Potgieter with Potgieter forming a formidable loose trio combination with Spies and Deon Stegmann.
Werner Kruger has shrugged off his rib injury and will start at tighthead prop with Derick Kuün at hooker. Blue Bulls coach Frans Ludeke said on Wednesday that Kuün would move back to flank next year.
Former Lions tighthead prop Ross Geldenhuys was included as one of five forwards on the bench.
Steyn takes over at number ten from Burton Francis while Olivier, who has made a full recovery following an ankle injury, will partner Jaco Pretorius in the midfield. Francois Hougaard moves back to the wing after his stint at centre.
Matfield said he and his Springbok team-mates were looking forward to joining up with the Blue Bulls in their quest to lift the Currie Cup.
"It has been quite a while since we have been the outright winners of the Currie Cup and therefore the next couple of weeks will be a huge challenge," said Matfield.
"There is a great vibe in the squad and it is nice to know that reaching the semifinals is still in our own hands, but we all know that we need to be at our very best in the weeks to come.
"Every single player in the squad needs to be focused on the job at hand and I look forward to a very tough game against the Cheetahs.
"With a number of (former) Bulls in their team they know exactly how we want to play - and apart from that, local derbies are always as tough as it gets."
The Cheetahs have been boosted by the return of full-back Hennie Daniller, but Springbok wing Jongi Nokwe has failed to recover from a hamstring injury in time for the trip to Pretoria.
Nokwe is the leading try-scorer in the Currie Cup and his unavailability has robbed the Cheetahs of a major strike weapon. Fabien Juries has been rewarded with a place in the run-on side following his impressive performance against the Sharks.
Daniller, Juries and the impressive Lionel Mapoe will therefore form a new-look back-three combination for the Free State side.
Drotské has selected the same loose forward combination with Ashley Johnson, Frans Viljoen and Heinrich Brüssow getting their second run as a unit for a mouthwatering battle against a formidable Bulls loose-trio.
Scrum-half Tewis de Bruyn may also get some game time off the bench.
He has recovered from a shoulder operation and has been picked as back-up to JP Joubert in place of former WP and Griquas half-back Tertius Carse.
"We have a certain way of playing and we are not going to change that now because we are playing a side like the Blue Bulls," said Drotské.
Blue Bulls: 15 Zane Kirchner, 14 Gerhard van den Heever, 13 Jaco Pretorius, 12 Wynand Olivier, 11 Francois Hougaard, 10 Morné Steyn, 9 Heini Adams, 8 Pierre Spies, 7 Dewald Potgieter, 6 Deon Stegmann, 5 Victor Matfield (c), 4 Danie Rossouw, 3 Werner Kruger, 2 Derick Kuün, 1 Gurthro Steenkamp.
Replacements: 16 Chiliboy Ralepelle, 17 Ross Geldenhuys, 18 Wilhelm Steenkamp, 19 Pedrie Wannenburg, 20 Dean Greyling, 21 Francois Brummer, 22 John Mametsa.
Cheetahs: 15 Hennie Daniller, 14 Lionel Mapoe, 13 Corné Uys, 12 Meyer Bosman, 11 Fabian Juries, 10 Jacques-Louis Potgieter, 9 JP Joubert, 8 Ashley Johnson, 7 Frans Viljoen, 6 Heinrich Brüssow, 5 David de Villiers, 4 Nico Breedt, 3 WP Nel, 2 Adriaan Strauss (c), 1 Wian du Preez.
Replacements: 16 Richardt Strauss, 17 Coenie Oosthuizen, 18 Izak van der Westhuizen, 19 Hendro Scholtz, 20 Tewis de Bruyn, 21 Louis Strydom, 22 JW Jonker
Kick-off: 17.05 (15.05 GMT)
Referee: Ian Smith (Australia)