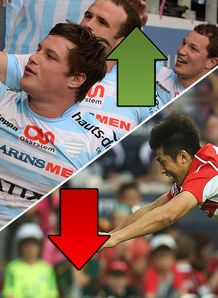 It is time for our weekly wrap up of who has their name in lights at the moment...and who is making the headlines for the wrong reasons.
They're on fire!
Rebels: The underdogs continue to tear up the form book in Super Rugby this year. Languishing at the wrong end of the standings, a superb second-half fightback saw the boys from Melbourne secure a deserved 32-24 victory over Australian conference leaders, the Brumbies on Friday. They're a curious bunch, these Rebels - the likes of Jason Woodward (who scored 27 points in the win), Tom English and Mitch Inman are not names we would ever associate with the Wallabies, yet together, they are greater than the sum of their parts.
Worcester: Don't let your eyes deceive you. After a season of not being hot, Worcester have finally won in the Premiership. Yes, they are still bottom, but a gap of nine points with four games to go instead of 12 is a significant improvement. Will they stay up? Probably not, but at least they're fighting.
Racing Métro 92: Les Franciliens did the double over their Parisian rivals Stade Français, recording a sweet derby victory to climb into the Top 14 play-off places and inflict Stade's first home defeat of the season. Racing have lost just one of their last seven games - the signs are good for the season run-in.
Saracens: Victory away to Wasps means that Sarries are now seven points clear at the top of the Premiership standings and on course for an all-important home semi-final.
Sharks: A workmanlike win over the Waratahs leaves Jake White's side - who have a bye this weekend - six points clear of the Brumbies, meaning they will keep top spot for at least another fortnight. White isn't everybody's cup of tea, but he and the Sharks are a perfect fit as they continue to dominate the leaderboard.
Chiefs: The champs haven't quite looked themselves in the early stages of this year's Super Rugby. It is perhaps telling that they trailed so badly to an average Bulls outfit at Loftus going in the closing stages of the match. But if any side in world rugby - bar the All Blacks - can overcome such a deficit, it's the Chiefs. Dave Rennie's men scored three tries in the last 11 minutes to come back from 31-15 down, snatching a draw from the jaws of the defeat. They remain some way off top form, but watch out when they hit their stride.
Broken Thermostat:
Mourad Boudjellal: He's at it again! Toulon's eccentric boss is back in the headlines as he pulls out all the stops in an attempt to get Bernard Laporte's 16-week ban - for bad-mouthing a referee - squashed. After lodging an appeal with French National Olympic and Sports Committee, Boudjellal has even asked the president of France (yes, François Hollande!) to intervene, arguing the case of Laporte's democratic rights. While we agree that Laporte's outbursts were very unsportsmanlike and against the ethos of rugby, from a strictly legal point of view Toulon may have a point. Can the LNR, or any other body in sport, prevent a coach from doing his job because he said something inconvenient in a country where freedom of speech is protected?
Get these guys a cup of warm soup!
Northampton: The wheels seem to be coming off the Saints bus. After storming through most of the season, Saturday's loss to Leicester was their third straight defeat. It's the first time they have loss three on the trot since November 2012.
Kosuke Hashino: Oh dear...
TMOs: What is about the TMO recently? Either they're too timid - see Shaun Veldsman at Loftus - or give incorrect information, such as Wayne Barnes blowing up early at Franklin's Gardens. In short, be more direct and get the big ones right.
Waratahs: A late consolation try wasn't enough to add any shine to the Sydneysiders' performance in Durban. Beyong being hammered on the scoreboard, it was a the way the 'Tahs approached the game that disappointed as it seemed they were out to destabilise the Sharks with all kinds of unnecessary niggle.
Stormers: Boooooooring...
Crusaders: It seems the aura surrounding the most successful side in Super Rugby history has gone. Three losses from five games - including two at home already - is not what we've come to expect from the men in red.
Brumbies: If recent results were anything to go by, then the men from Canberra are making a habit of starting fast and fading as matches progress. After resisting fightbacks from the Waratahs and Stormers in their previous matches, they were not so fortunate against the Rebels. In that clash, the Brumbies wracked up a 17-6 lead, early in the second half, before taking their foot off the pedal and eventually left Melbourne without even a bonus-point for losing by seven or less points.