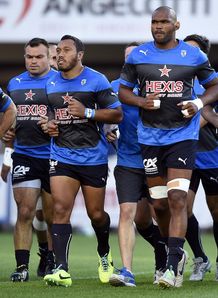 Montpellier and France prop Nicolas Mas says his side have no right to complain after losing their opening match to Racing Métro.
The hosts lost hooker Charles Geli to a red card for punching and were then beaten by some late penalties from Jonathan Sexton to get off to a losing start.
Discussing the result, Mas insisted Montpellier had nothing to complain about and should draw from the spirit they showed in the second half when down to 14 men.
Last season's semi-finalists next face Grenoble but they will be without prop David Attoub, who tore a bicep in the defeat to Racing and will be out for four to five months.
"It's disappointing. We knew that this team Racing were coming here to do something. The game was a little complicated," Mas told AFP.
"Now we have to keep the drive that we put in during the second half even being reduced to fourteen men. We were able to put points on the board. We thought we would win. We missed out on some points while Racing scored when they needed to.
"There was a lot of pressure because it's not easy to start the season at home. We were a little restless, then we thought that we had nothing to lose.
"We need to regroup quickly because Grenoble produced a big performance in Clermont. They will come here next week with big ambitions.
"We don't have the right to whinge and must move forward to our next game."