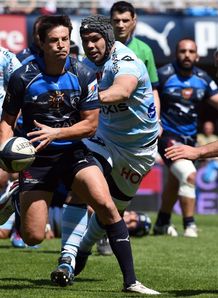 Related links
Also see
The longest, most expensive championship in rugby gets back underway this weekend, with a host of eye-catching encounters as everyone tries to catch Toulon.
Newcomers Lyon and La Rochelle are both on the road to start their campaigns, while there are clashes between top six contenders Castres and Stade Français and Montpellier and Racing Métro to set the tone for the campaign.
Clermont v Grenoble
Clermont finished last season looking like a team on the decline, hammered by Saracens in a Heineken Cup semi-final before losing their 77-game unbeaten home streak to Castres in the Top 14 play-offs.
Over the off-season Vern Cotter has moved on after eight seasons, with the general feeling being the club deserved to win a lot more than one Top 14 title and an Amlin Cup during that time.
Franck Azéma was given the task of rebuilding the squad, with the help of former Leinster coach Jono Gibbes, and the signs are there that Clermont are not done yet.
Camille Lopez has been turning heads in pre-season, while a rejuvenated Sébastien Vahaamahina has the potential to be the equal of any second row in the league, especially under the tutelage of Jamie Cudmore - a phrase that hasn't been used too often!
This weekend they will open up against Grenoble, who have enjoyed a profitable off-season of their own. A trip to Argentina to take on the Pumas appears to have been a fruitful experience, and if last weekend's win over Harlequins was anything to go by, we might see a more entertaining Grenoble side this year.
Gio Aplon is probably the biggest name signing, and will no doubt wreak havoc with his elusive running, but Jonathan Wisniewski could be even more influential as he gets his career back on track after stalling in the last couple of years at Racing.
Clermont: 15 Nick Abendanon, 14 Zac Guildford, 13 Aurelien Rougerie, 12 Noa Nakaitaci, 11 Julien Malzieu, 10 Brock James, 9 Ludovic Radosavljevic, 8 Fritz Lee, 7 Julien Bardy, 6 Damien Chouly (c), 5 Sebastien Vahaamahina, 4 Jamie Cudmore, 3 Clement Ric, 2 Ti'i Paulo, 1 Vincent Debaty
Replacements: 16 Thomas Domingo, 17 Benjamin Kayser, 18 Loic Jacquet, 19 Julien Bonnaire, 20 Morgan Parra, 21 Camille Lopez, 22 Wesley Fofana, 23 Daniel Kotze
Grenoble: 15 Fabien Gengenbacher (c), 14 Alipate Ratini, 13 Jackson Willison, 12 Nigel Hunt, 11 Gio Aplon, 10 Jonathan Wisniewski, 9 Charl McLeod, 8 Rory Grice, 7 Henry Vanderglas, 6 Fabien Alexandre, 5 Ben Hand, 4 Hendrik Roodt, 3 Dayna Edwards, 2 Arnaud Héguy, 1 Alexandre Dardet
Replacements: 16 Albertus Buckle, 17 Anthony Hegarty, 18 Richard Choirat, 19 Ross Skeate, 20 Florian Faure, 21 Joannes Henry, 22 Julien Caminati, 23 Benjamin Thiéry
Date: Saturday, August 16
Venue: Stade Marcel Michelin
Kick-off: 14.45 local (13.45 GMT)
Referee: Cyril Lafon
Assistant referees: Adrien Descottes, Bruno Gabaldon
---
Bordeaux-Bègles v Lyon
In their first stint in the Top 14, Lyon were a massive disappointment, finishing dead last and 17 points away from safety.
That was in 2011/12, and the team who had earned promotion alongside them that campaign were Bordeaux, who have been in the Top 14 ever since.
Now Lyon are back they will open their season up at the Stade André Moga and they should quickly get an idea of how far they still have to go.
Tim Lane and his coaching staff appear to have recruited wisely, with many players with Top 14 experience, including former French internationals Fabrice Estebanez and Julien Puricelli, while Wallaby legend George Smith should be a great signing.
But they face a Bordeaux side last year who were one win away from making the play-offs and look to be improving each season.
French winger Sofiane Guitoune seems to be fully recovered from a torn Achilles he suffered last year, meaning that he should make his debut after a switch from Perpignan, while lock Julien Le Devedec also looks like a shrewd recruit from Brive.
It's difficult to imagine Lyon getting a win to get their campaign underway, but two years ago Bordeaux were shocked by promoted side Grenoble on home soil, so it's not impossible.
Bordeaux: 15 Darly Domvo, 14 Sofiane Guitoune, 13 Julien Rey, 12 Thibaut Lacroix, 11 Blair Connor, 10 Pierre Bernard, 9 Heini Adams, 8 Matthew Clarkin (c), 7 Hugh Chalmers, 6 Louis-Benoit Madaule, 5 Adam Jaulhac, 4 Julien Le Devedec, 3 Patrick Toetu, 2 Clement Maynadier, 1 Jefferson Poirot.
Replacements:16 Benat Auzqui, 17 Jean-Baptiste Poux, 18 Jandre Marais, 19 Taisina Tuifua, 20 Baptiste Serin, 21 Lionel Beauxis, 22 Romain Lonca, 23 Francisco Gomez Kodela.
Lyon: 15 Romain Loursac, 14 Toby Arnold, 13 Kendrick Lynn, 12 Fabrice Estebanez, 11 Mosese Ratuvou, 10 Stephen Brett, 9 Ricky Januarie, 8 George Smith, 7 Pierrick Gunther, 6 Julien Puricelli, 5 Lionel Nallet (c), 4 Bjorn Basson, 3 Anthony Roux, 2 Vincent Colliat, 1 Wian Du Preez.
Replacements:16 Deon Fourie, 17 Bogdan Balan, 18 Joseph Tuineau, 19 Frans Viljoen, 20 Waisele Sukanaveita, 21 Paul Bonnefond, 22 Lachie Munro, 23 Horatiu Pungea.
Date: Saturday, August 16
Venue: Stade Andre Moga
Kick-off: 18.30 local (17.30 GMT)
Referee: Pascal Gauzère
Assistant referees: Christophe Dutreuilh, Eric Soulan
---
Brive v La Rochelle
Last season Brive knocked off all the big guns at home, losing just once to bottom side Biarritz.
That home form was the reason they comfortably beat the drop, with Gaëtan Germain kicking everything in the opposition half to finish the season as the league's top points scorer.
Nicolas Godignon's side will be looking to maintain that form in the new season, and a home opener against La Rochelle gives them the perfect opportunity to get off to a good start.
There has been little movement on the recruitment front, so it will be up to those players already in the squad to push on, in contrast to La Rochelle who have brought in a number of new names.
Peter Grant should be the key man at fly-half, while Jean-Pascal Barraque will get the chance to reignite his career after a lost season at Toulouse.
It's unlikely that they will manage to get anything this weekend, and they are strong favourites for the drop, but it will be good to see how tighthead prop and skipper Uini Atonio holds up against the challenge of the fearsome Brive pack.
Brive: 15 Gaetan Germain, 14 Alfie Mafi, 13 Arnaud Mignardi, 12 Thomas Sanchou, 11 Elia Radikedike, 10 Thomas Laranjeira, 9 Jean-Baptiste Pejoine, 8 Petrus Hauman, 7 Dominiko Waqaniburotu, 6 Hugues Briatte, 5 Arnaud Mela (c), 4 Peet Marais, 3 Kevin Buys, 2 Guillaume Ribes, 1 Goderzi Shvelidze.
Replacements:16 Thomas Acquier, 17 Karlen Asieshvili, 18 Victor Lebas, 19 Said Hireche, 20 Benjamin Neveu, 21 Andrew Malilei, 22 Sevanaia Galala, 23 Damien Jourdain.
La Rochelle: 15 Peter Grant, 14 Sireli Bobo, 13 Jean-Pascal Barraque, 12 Levani Botia, 11 Damien Cler, 10 Hamish Gard, 9 Julien Audy, 8 Jone Qovu, 7 Kevin Gourdon, 6 Romain Sazy, 5 Leandro Cesaro, 4 Jason Eaton, 3 Uini Atonio (c), 2 Rassie Van Vuuren, 1 Vincent Pelo.
Replacements:16 Hika Forbes, 17 Jordan Seneca, 18 Jacobus Grobler, 19 Nicolas Djebaili, 20 Albert Vulivuli, 21 Julien Berger, 22 Charles Lagarde, 23 Lekso Kaulashvili.
Date: Saturday, August 16
Venue: Stade Amedee Domenech
Kick-off: 18.30 local (17.30 GMT)
Referee: Christophe Berdos
Assistant referees: Mathieu Noirot, Laurent Amic
---
Castres v Stade Français
A single point separated Castres and Stade Français last season but while Castres ended up falling just short of a second successive Top 14 title, Stade crumbled against Wasps to miss out on European qualification.
While it's always dangerous to put too much stock in pre-season results, Stade have been far from convincing, and will need to be much improved on the side that were hammered at home to Castres a fortnight ago.
They will have to manage the early part of the season without one of their biggest attacking threats, full-back Hugo Bonneval will not play again until February because of a torn ACL.
And while they made few big signings, Digby Ioane will be looking to bounce back after a disappointing first season.
Castres meanwhile were dealt a huge blow with the news that star signing Sitiveni Sivivatu will be out of action for three to four months with a shoulder injury.
They will also have to cope with the losses of Brice Dulin and Antonie Claassen, however last season they were the only team not to lose at home, and that record will likely remain this weekend.
Castres: 15 Geoffrey Palis, 14 Romain Martial, 13 Thomas Combezou, 12 Romain Cabannes (c), 11 Remy Grosso, 10 Daniel Kirkpatrick, 9 Cedric Garcia, 8 William Whetton, 7 Mathieu Babillot, 6 Jannie Bornman, 5 Rodrigo Capo Ortega, 4 Christophe Samson, 3 Paea Fanuunu, 2 Mathieu Bonello, 1 Saimone Taumoepeau.
Replacements:16 Brice Mach, 17 Mihaita Lazar, 18 Piula Faaselele, 19 Johnnie Beattie, 20 Rory Kockott, 21 Remi Lamerat, 22 Julien Dumora, 23 Yohan Montes.
Stade Français: 15 Djibril Camara, 14 Julien Arias, 13 Waisea Nayacalevu, 12 Meyer Bosman, 11 Digby Ioane, 10 Jules Plisson, 9 Julien Tomas, 8 Sergio Parisse (c), 7 Sylvain Nicolas, 6 Mathieu Ugena, 5 Pascal Pape, 4 Paul Gabrillagues, 3 Rabah Slimani, 2 Laurent Sempere, 1 Heinke van der Merwe.
Replacements:16 Remi Bonfils, 17 Zak Taulafo, 18 Gerhard Mostert, 19 Scott Lavalla, 20 Jerome Fillol, 21 Raphael Lakafia, 22 Jonathan Danty, 23 Adrien Oleon.
Date: Saturday, August 16
Venue: Stade de la Mediteranee
Kick-off: 18.30 local (17.30 GMT)
Referee: Alexandre Ruiz
Assistant referees: Mourad Zitouni, Patrick Beuriot
---
Toulouse v Oyonnax
With Guy Novès in charge, Toulouse have never gone more than two seasons without a title, so the pressure is on France's most successful club.
However that will not be easy, and they will be without a number of key players to begin the campaign. Louis Picamoles is out for a month, Thierry Dusautoir for three weeks, and Luke McAlister will also be absent this weekend.
For a team with the depth of Toulouse, there will still be a strong team available, there are big issues in the front row with Schalk Ferreira (torn bicep), Gurthro Steenkamp (Rugby Championship), Chiliboy Rallepelle (torn ACL) and Corey Flynn (not yet arrived) all unavailable.
Their promising young tighthead, Antoine Guillamon, should feature this weekend, but for Oyonnax, where he is currently on loan.
And as they prepare for a second season in the top flight, Oyonnax will know they have to improve their away form, having picked up just one win all of last year.
Whether that starts in Toulouse remains to be seen, but a losing bonus point (within five points this season) would be seen as a good result.
Toulouse: 15 Alexis Palisson, 14 Vincent Clerc, 13 Yann David, 12 Clement Poitrenaud, 11 Timoci Matanavou, 10 Toby Flood, 9 Jano Vermaak, 8 Joe Tekori, 7 Imanol Harinordoquy, 6 Yacouba Camara, 5 Patricio Albacete (c), 4 Romain Millo-Chluski, 3 Neemia Tialata, 2 Cyril Baille, 1 Vasil Kakovin.
Replacements:16 Christopher Tolofua, 17 Rodrigue Neti, 18 Gregory Lamboley, 19 Yannick Nyanga, 20 Jean Marc Doussain, 21 Gael Fickou, 22 Yoann Huget, 23 Census Johnston.
Oyonnax: 15 Florian Denos (c), 14 Dug Cudjo, 13 Guillaume Bousses, 12 Roimata Hansell-Pune, 11 Yves Donguy, 10 Benjamin Urdapilleta, 9 Agustin Figuerola, 8 Viliame Ma'afu, 7 Mauri Fa'asavalu, 6 Pedrie Wannenburg, 5 Damien Lagrange, 4 Thibaut Lassalle, 3 Ruaan Du Preez, 2 Jody Jenneker, 1 Soane Tonga'uiha.
Replacements:16 Clement Julien, 17 Marc Clerc, 18 Damian Browne, 19 Olivier Missoup, 20 Fabien Cibray, 21 Riaan Smit, 22 Alex Luatua, 23 Antoine Tichit.
Date: Saturday, August 16
Venue: Stade Ernest Wallon
Kick-off: 18.30 local (17.30 GMT)
Referee: Maxime Chalon
Assistant referees: Jonathan Gasnier, Laurent Sclafer
---
Montpellier v Racing Métro
Arguably the pick of the games, last year's losing semi-finalists will face off in a contrast of styles.
Both bursting with big names, the game will see arguably the most attacking side in France, up against one of the most organised.
Montpellier's 59 tries last year was almost double the number managed by Racing Métro but that doesn't mean this is a foregone conclusion.
After struggling early on, Racing came into their own in the second half of the season, and coaches Laurent Labit and Laurent Travers seem to be putting in place their game plan.
New signings Brice Dulin and Antonie Claassen should make a big impact for the club from the capital while Johan Goosen will put the pressure on Jonny Sexton at fly-half.
For Montpellier, Ben Mowen is not yet available having just arrived from Australia, but the fitness of skipper Fulgence Ouedraogo is a huge boost after an injury-disrupted campaign last time out.
Former Racing full-back Benjamin Fall will also get the chance to line up against his former teammates on his debut for Montpellier.
Montpellier: 15 Benjamin Fall, 14 Timoci Nagusa, 13 Anthony Tuitavake, 12 Robert Ebersohn, 11 Rene Ranger, 10 François Trinh-Duc, 9 Jonathan Pélissié, 8 Alex Tulou, 7 Alexandre Bias, 6 Fulgence Ouedraogo (c), 5 Thibaut Privat, 4 Sitaleki Timani, 3 Nicolas Mas, 2 Charles Geli, 1 Misha Nariashvili
Replacements: 16 Mikael Ivaldi, 17 David Attoub, 18 Tom Donnelly, 19 Robins Tchale-Watchou, 20 Benoit Paillaugue, 21 Antoine Battut, 22 Pierre Bérard, 23 Na'ama Leleimalefaga
Racing Métro: 15 Brice Dulin, 14 Adrien Plante, 13 Henry Chavancy, 12 Alexandre Dumoulin, 11 Yoan Audrin, 10 Jonathan Sexton, 9 Mike Phillips, 8 Antonie Claassen, 7 Bernard Le Roux, 6 Wenceslas Lauret, 5 Francois van der Merwe, 4 Luke Charteris, 3 Luc Ducalcon, 2 Virgile Lacombe, 1 Julien Brugnaut
Replacements: 16 Jeremie Maurouard, 17 Davit Khinchagishvili, 18 Thibault Dubarry, 19 Camille Gerondeau, 20 Maxime Machenaud, 21 Johan Goosen, 22 Jamie Roberts, 23 Brian Mujati.
Date: Saturday, August 16
Venue: Altrad Stadium
Kick-off: 20.45 local (19.45 GMT)
Referee: Salem Attalah
Assistant referees: Tual Trainini, Laurent Breil