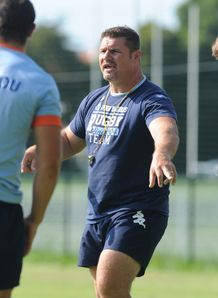 Related links
Also see
New Bayonne coach Patricio Noriega is refusing to be intimidated ahead of a Top 14 opener against reigning champions Toulon.
The former Argentina and Australia prop arrived in the Basque country over the off-season, having spent two years in Paris with Racing Métro and Stade Français.
After letting Christian Lanta and Christophe Deylaud go, Bayonne brought in Noriega for his first head coaching job in France.
He will face a baptism of fire first up, against a Toulon side which won both the Top 14 and Heineken Cup trophies last season.
But despite the multitude of World Cup winners and Test stars who will line up against them, Noriega is confident Bayonne will be up to the challenge on home soil.
"I'm never afraid. They have a great team with lots of international players," he told Rugbyrama.
"The most important is undoubtedly Matt Giteau at ten. He started his career at scrum-half, and he played with me, since he has played everywhere and has a lot of experience. He's the key to their game.
"Then they have an excellent front row, a very good second row, a back row capable of dominating their opponents and powerful, quick backs. They are a very good side, but we are not scared.
"It's our first game, and with the rest of the staff, we're very optimistic about putting in place everything we have worked on until now.
"It's a game of rugby and from the moment you go onto the pitch, it's 15 against 15. The player opposite you will have two arms and two legs just like us. We obviously have a lot of respect for them because they are the champions, but that's it. It was last season, and this is a new season which is starting."