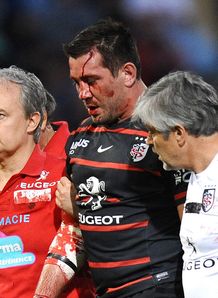 Related links
Teams
Also see
The President of the FFR's Medical Commission has urged the League to speed up their investigation into the Florian Fritz incident last season.
The Toulouse centre was left covered in blood and clearly dazed after a blow to the head in a Top 14 play-off clash with Racing-Métro only to return later in the game despite the obvious signs of concussion.
The incident sparked widespread condemnation of the medical teams involved and now Jean-Claude Peyrin wants the findings from the LNR's investigation commission to be published as soon as possible.
"The following day the IRB medical director emailed me to ask what was happening in France. The President of the FFR Pierre Camou called me as well, while he was in Senegal," said Peyrin.
"The investigation commission has seen everyone, including Dr Albert Sadacca, Toulouse's doctor, on the morning of July 10. Now we've told them we can't wait any longer."
Whatever happens there will be no punishment as there are not currently any rules in place regarding incidents such as this, however Peyrin wants the findings in black and white so that the FFR can introduce changes for next season.
"For the last two seasons we've been joint-financing a study with the league, with observers watching every game on video and looking out for incidents in games," he added.
"We saw that despite the training that has been done, the doctors did not always apply our guidelines. We decided that cannot continue."
The FFR have organised two training days for all doctors at professional clubs and national selections, the first was on July 10, the second will be on October 2, and then the physios, managers and coaches will also receive training at the end of November.
"If halfway through the season we find that clubs are failing in their duty, we will provide an independent doctor for all their return fixtures, whose remuneration and transport costs will be paid for by the club," he warned.
"When it gets to the knockout stages in the Top 14 and ProD2, all the doctors will be independent. From next season we will see if it is possible to have independent doctors in place for every game.