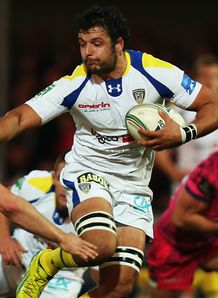 Number eight Damien Chouly will be Clermont's new captain from next season after emblematic centre Aurelien Rougerie opted to pass on the responsibility, the club announced on Tuesday.
Rougerie, who was one of three players injured by a machete-wielding group 10 days ago in the southern town of Millau, where the club had a pre-season training camp, decided at the end of last season to step down from the position.
28-year-old Chouly who has played 21 times for France, was given the role by new head coach Franck Azema, who replaced New Zealander Vern Cotter, now the Scotland coach.
"Damien is a serious guy in every aspect," said Azema, who was Clermont's back-line coach under Cotter.
"If I now want to see him in this role, it's because his behaviour has always been exemplary, whether with his club or with France.
"He's always shown his desire to be at the team's service and is impregnated into the culture of this club."
Chouly joined the club in 2012 from Perpignan, where he won the Top 14 title in 2009 and played in the final in 2010, both times against Clermont.
He played for Brive before that.
33-year-old Rougerie has spent 14 seasons with Les Jaunards, with whom he won the 2010 Top 14 title and reached the 2013 Heineken Cup Final.