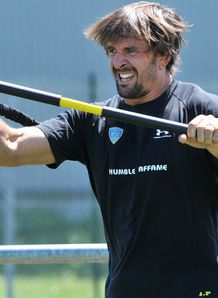 Related links
Also see
Clermont will be without three of their French internationals for the start of the Top 14 season as they recover from being attacked by a gang of armed thugs.
Benjamin Kayser, Aurélien Rougerie and Julien Pierre have joined their team-mates at their pre-season training camp in Falgos but are set to remain on the sidelines for a month following the assault by a group of youths wielding machetes, knives and pick handles last weekend.
Two men from the French Caribbean Island of Saint-Martin, aged 20 and 21, have appeared in court on charges of premeditated armed assault and are facing jail time. Both have previous criminal records, one for extortion the other for drug trafficking.
One other person was also injured after intervening in the attack by a dozen-odd men on scooters, which is believed to have been an act of retribution after Rougerie had stepped between a young women and a man who was "violently insulting" her at a night club earlier in the evening.
"I was lucky that the blade did not hit anything else," said Pierre, who required surgery on deep cuts to his hip.
"I was lucky to have team-mates who had the nerve to help me and support me at the time.
"This is a bad experience, a story we tell our children. "
Rougerie revealed that the three men needed the help of a psychologist to talk through the ordeal while Kayser said he felt better having rejoined his team-mates after spending time with his family.
"It was essential to debrief with the guys, to feel together," said the hooker.
"This is the best way to move on to something else because we all want to turn the page."