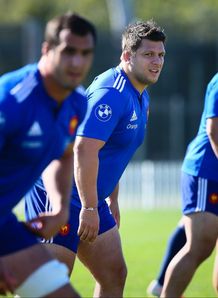 Related links
Teams
Also see
France's tour was one to forget in terms of results, but the experience was a proud one for Toulon prop Alexandre Menini.
The 30-year-old won his first two caps for his country to complete a remarkable season after moving from Biarritz.
Domestic and European success last season secured Menini a spot in Philippe Saint-André's squad.
Despite the 3-0 series defeat though against the Wallabies, Menini gathered valuable experience moving forward.
"After the two titles with Toulon, to go on tour with France was the icing on the cake. I really enjoyed myself. I soaked up a lot of experience but there is still a lot of work to do to keep playing at that level," Menini told Rugbyrama.
"It was like a new world for me, and Australia are one of the two or three best teams in the world.
"I know that some things I did weren't bad, some not so good, with lots of work to do. If I have the chance to wear that jersey again, I'll have to improve."
Asked to sum up the major difference between club and Test rugby, Menini didn't hesitate with his response.
"It's the pace! Between a lineout and a scrum, there's ten times less time. Even the referee tells you to hurry up to get to the lineout!" added the prop.
"There's very little stoppage time, and that's the hardest. Any lapse of concentration and the game passes you by and it's over."
Now back in training with Toulon after four weeks off, the club have once again made a batch of impressing signings.
Remembering how smoothly his own integration went last season, Menini reinforced that despite Toulon's squad being full of stars, the team comes first.
"I didn't know anyone before arriving, but it went very well. When I arrived, I was immediately accepted. All the guys that are here live for the team," stated Menini.
"The next guy that arrives, they try to put him in ideal arrangements to get the best out of him.
"The only fear I had was whether I would be able to prove that I belonged to a team where there were only superstars. But although all these players are stars, you are also recognized because of the work you put in. If you're a hard worker, they will accept you even more."