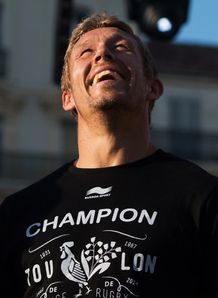 Looking back on his final match as a player, Toulon coach Jonny Wilkinson admits that the end of his career 'went perfectly'.
Settling into retirement as part of Toulon's coaching staff, Wilkinson added that had things not gone to plan in the Heineken Cup and Top 14 Finals that he's not sure how he might have coped.
"I don't know... that's why I'm very happy," Wilkinson told Rugbyrama.
"The end of the season went perfectly. Everything is finished. If I'd had a kick in the final and I'd missed, I don't know if it would have been possible for me to live with it. I think it would have been very complicated.
"At the end of it, I was able to breathe a lot easier and turn attention to something else.
"Of course there are things that I will miss. But it was a good decision to stop. Until then, I continued because I wasn't sure of my decision. But I finished with the double and it was an opportunity to say thank you and goodbye."
Asked if he was a different man, Wilkinson stated that his focus had dramatically changed and that he was slowly adapting his daily routine.
"Yes, I think I am. I see the world in a slightly different way. Of course I must get used to certain things - not getting up in the morning, going straight to training for two hours alone," added Wilkinson.
"It was an enormously useful therapy for me to spend two hours just kicking a ball. It was a way to teach me things, to solve problems in my life. Now what motivates and inspires me is to help other players."