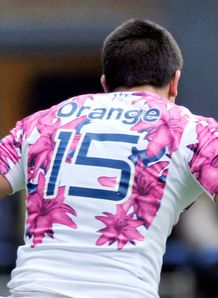 According to reports in the French press, Stade Franšais are close to recruiting a full-back from the southern hemisphere.
The Parisian club have been searching for a 'medical joker' to fill the gap caused by France full-back Hugo Bonneval's long-term knee injury.
Bonneval ruptured cruciate ligaments during the third Test against the Wallabies in June and is unavailable for six months.
With Jerome Porical having left the club to join Lyon, Stade do not have a specialist full-back in their squad.
RMC Sport reports that a source close to the club has revealed that the they are talking to potential replacement from Super Rugby.
"It's tough because we played 99 percent of our matches with Hugo Bonneval or Jerome Porical at full-back last season," said head coach Gonzalo Quesada.
"One is injured and the other is no longer here. We have not replaced them yet.
"This is the challenge, seeing how it reorganise, even if we have solutions internally, though we will obviously try to replace him with a medical joker. We're working on it."