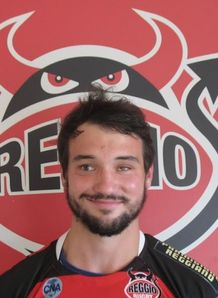 Florian Cazenave, the former Perpignan scrum-half who lost an eye last year, has found a new club after joining Reggio in Italy.
The D2 side have signed up the 24-year-old after he was unable to continue playing in the Top 14.
"The FFR rules are very clear: when you've lost a bilateral organ, there is a formal prohibition against practising rugby," said the FFR medical commission president Jean-Claude Peyrin at the time when Cazenave was attempting to come back.
"It is therefore impossible for Florian Cazenave to play rugby again in France, whether in the Top 14 or in the fourth division, as he cannot obtain a licence."
Cazenave sustained the injury in a domestic accident in July last year and having rehabilitated after the major injury can now move on with his career in Italy.
"When I had the accident last year and I knew that I couldn't continue, at least for the moment, my career in France, I immediately looked for an alternative," explained Cazenave to the club website.
"Unfortunately to keep playing I need to use a glass eye and in France they are not allowed. Having played for seven years in Perpignan I knew [Reggio number eight] Viliami Vaki well and I contacted him.
"It was great to find a friend who told me Reggio's goals and the project to take the club forward, focusing on the development of young players.
"I immediately took up the challenge and cannot wait to test myself and get back on the field.
"My first goal is to learn Italian, after which I will give my best to help my teammates on the field and help take Reggio Rugby into the Top 10. I'm happy to be here, the Rossoneri have given me a great opportunity and I hope I won't disappoint."